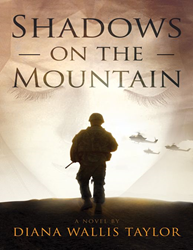 I heard an army captain tell stories of an organization that rescues stranded soldiers from all over Vietnam and Laos and returns them to their families. I knew then I wanted to write a novel about these amazing stories.
Friendwood, TX (PRWEB) May 30, 2014
Vietnam War MIAs were all declared dead by President Carter, but a Thailand-based organization continues to help these forgotten man come home via an underground church. A new Vietnam era novel, "Shadows on the Mountain" by San Diego Christian Writer's Guild author Diana Wallis Taylor, is based on these unforgettable real life stories.
"I met an army captain visiting my mother's church in Torrance, CA, who had been a prisoner of war in Vietnam," Taylor says. "He told stories of an organization he belongs to that rescues these stranded soldiers from all over Vietnam and Laos and returns them to their families. After listening to these amazing stories, I knew I wanted to write a novel to make others aware of these incredible experiences."
"Shadows on the Mountain" is Taylor's tale of an MIA who comes home after 25 years to face a wife he thought he'd lost, a daughter he didn't know he had, and what he remembers as a fractured family who must accept a half-Vietnamese daughter he would not leave behind.
The story opens as Gordon Thornwell, head of a prestigious San Francisco law firm and ruthless with many contacts he has power over, is determined to set the life course for his only son Oliver. He offers Kathryn, Oliver's wife of five days, a large check to file for an annulment. He then uses his contacts to keep Oliver and Kathryn apart when Oliver goes into Army basic training.
Oliver Thornwell leaves for Vietnam thinking his young wife has taken the check from his wealthy father and agreed to the annulment, but unknown to him, Kathryn throws the check away. When Oliver's helicopter goes down, he's presumed dead by his family. Nine months later Kathryn gives birth to a daughter and raises her in secrecy, fearing her father-in-law.
Many years later, Ralph Jensen, a missionary doctor with a traveling medical team, discovers Oliver in a small village in the mountains of Northern Vietnam and helps arrange the escape for him and his 15-year old daughter, Kim Ahn. When Oliver returns home after 25 years, with the help of the underground church, he faces not only a reconciled family, and a daughter he doesn't know he has, but brings the half-Vietnamese daughter he cannot leave behind.
Published by TotalRecall Publications, "Shadows on the Mountain" is available from Amazon.com, Books-a-Million, Barnes & Noble and other booksellers.
Diana Willis Taylor is a former teacher and Director of Conference Services for a private Christian college. She belongs to Professional Women's Fellowship, and serves on the board of the San Diego Christian Writer's Guild and the board of her church. She's the author of five books of Biblical Fiction, three other books of fiction and a book of poetry. She loves to share heart with women's groups. She and her husband live in San Diego, CA.
TotalRecall Publications Inc. was founded in 1998 by Bruce Moran, a former NASA IT professional who transitioned into computer instruction and educational materials. The company began with the introduction of study guides and Q&A testing software for various computer and financial certification exams and expanded into library and information science textbooks in 2007. Since 2008, the publisher has been developing a fiction product line by debut authors that focuses on mysteries, thrillers, and military action. Additionally, TotalRecall has expanded into general nonfiction and now publishes more than 200 non-fiction and fiction titles, all distributed worldwide through book retailers and wholesalers and via eBook databases such as ebrary, EBSCO, and Books24x7.com. http://www.totalrecallpress.com.