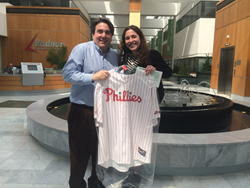 (PRWEB) May 28, 2014
On Saturday, September 20th, the John Kelly of King of Prussia will host the Kel-Moga Golf Tournament at the Linfield National Golf Club in Linfield. First held in 2005, the event celebrates the memories of John "Kel" Kelly Jr. and Michael "Moga" Zadroga. More than 100 golfers are expected to tee up for the event which will benefit Peter's Place, a center for grieving children and families.
When asked how the golf outing came to be, Kel-Moga organizer, John Kelly, said, "The event was inspired by a memory of my first trip to a real golf course and it included my dad, uncle and cousin. It was a great day, one of my happiest as a kid."
"Giving back to people and organizations that have helped our family is a priority of ours," continued Kelly. "Peter's Place is an unsung hero in the community. They guided my family through a tragic event. When my uncle passed away, my cousins were very young. They were suddenly without a dad, and my aunt, suddenly without a husband. Peter's Place and its staff did what they do best; they opened their doors as wide as could be for my cousins and aunt to receive support and have a safe place to go, where everyone was understanding of the emotions they were going through."
After learning about the tournament, Gary Barbera reached out to lend his support. Barbera has graciously agreed to give a car to any golfer who makes a hole-in-one at a specified hole during the tournament.
"When I heard about this golf outing, I knew I wanted to help. The Kelly family's commitment and the work Peter's Place does for grieving kids and families in our community – that is exactly what the Barbera Cares Program is all about. We are excited to contribute to the Kel-Moga Golf Tournament and to make a difference for grieving children in our community."
Peter's Place Executive Director, Carrie Miluski, is delighted to see this partnership develop. "Peter's Place is a precious community resource that is here because of people like this who care," said Miluski. "We are so thankful for all that John and Gary are doing to help Peter's Place provide support for grieving children and families." Peter's Place does not charge for support services and relies entirely on donations to fund its programs.
The Kel-Moga Golf Tournament is open to the community. The cost to golf is $100 per golfer and includes golf, cart, food, and beverages. Sponsorship opportunities are also available. For more information about the tournament, please visit http://www.kelmogagolf.com, find them on Facebook, or email kelmoga3(at)gmail(dot)com.
About Peter's Place
Since 2001, Peter's Place has been providing a safe and supportive environment for grieving children and families and acting as a community resource to foster understanding of the effects of death and grief. At their Radnor center, they offer peer support groups for children ages 4-17 and their caregivers, and for young adults ages 18-25. In addition to these programs, Peter's Place has an Outreach Program that brings grief support groups to children in schools throughout the Philadelphia region. More than 500 children, caregivers, and young adults were served through the On-Site and Outreach programs this year alone. The Peter's Place staff also educates professionals about childhood grief, indirectly serving an additional 16,000 children annually.
Peter's Place does not charge for any programs, ensuring that services are accessible to everyone regardless of income.
For more information about Peter's Place, please visit http://www.petersplaceonline.org or call (610) 687-5150 or view our video online at http://vimeo.com/23174800.