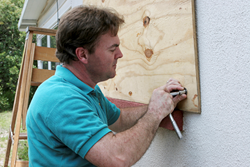 Lincoln, RI (PRWEB) May 27, 2014
National Hurricane Preparedness Week runs from Sunday, May 25 through Saturday, May 31, so Amica Insurance is sharing tips to help you get ready for the season ahead.
It's important to take the necessary precautions now – long before inclement weather is in the forecast. These tips from Amica will help keep you, your family, and your property safe in the event of a hurricane:

Have an emergency supply kit ready. It should include first-aid supplies, nonperishable food, bottled water, a flashlight, and extra batteries.
Create an evacuation plan, so your family knows what to do and where to go if a hurricane is imminent. Be prepared to evacuate if told to do so, and make sure family and friends know how to reach you afterward.
Protect your home as much as possible. Performing routine maintenance – like removing dead trees and branches and clearing gutters and downspouts – can help.
Create an inventory of all belongings, in case you need to file a claim after a hurricane.
If a hurricane is in the forecast, bring lawn furniture, ornaments, and toys inside. Secure grills, roofs, windows, doors, garage doors, and other areas that are susceptible to wind damage.
For more information on hurricane preparedness, visit the Amica Storm Center.
About Amica Insurance
Amica Mutual Insurance Co., the nation's oldest mutual insurer of automobiles, was founded in 1907. The company, based in Lincoln, R.I., is a national writer of automobile, homeowners, marine, and personal umbrella liability insurance. Life coverage is available through Amica Life Insurance Company, a wholly owned subsidiary. Amica employs more than 3,200 people in 40 offices across the country.
Contact: Vince Burks, Corporate Communications, 50 Amica Way, Lincoln, RI 02865-1155, 800-652-6422, ext. 24563
Twitter: Amica
Facebook: Amica Mutual Insurance Co.