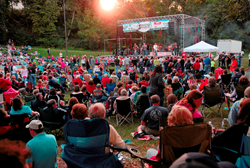 In the last few years, the draw to Downtown Appleton has really been intensifying as people discover all the area has to offer.
(PRWEB) May 28, 2014
As part of an ongoing effort to promote its one-mile stretch of arts and entertainment, dining, shopping and family-friendly activities in Northeast Wisconsin, Appleton Downtown, Inc. (ADI) recently unveiled its extensive line-up of events in store for visitors this summer.
The event schedule includes a daytime and evening concert series, an expanded farm market, a free trolley service and a monthly art walk. Activities will kick off the first week of June and run all the way through October.
Offering more activities than ever before, ADI staff expects this summer schedule to attract an estimated 500,000 people to Downtown Appleton and its riverfront district as the area continues to evolve into a top-of-mind destination.
"In the last few years, the draw to Downtown Appleton has really been intensifying as people discover all the area has to offer," ADI Executive Director Jennifer Stephany explained. "Local residents consider it a staycation option with so many things to see and do Downtown, and it's become a popular destination for day-trip travelers and out-of-state visitors alike."
Highlights within the summer line-up include the Heid Music Summer Concert Series on Thursday nights from June 5 to August 28, with most live musical performances returning to the newly renovated Houdini Plaza and others held at Jones Park. Some groups among the much-anticipated line-up include RPM, Vic Ferrari and a 3-band showcase with surprise guest appearances to coincide with the second annual Mile of Music festival.
Enhancing the music vibe, Octoberfest organizers will present the Lunchtime LIVE! series that also kicks off on June 5 in the City Center Plaza and features live music for daytime visitors.
Additional summer activities slated for Downtown Appleton include:

The Downtown Appleton Farm Market – The largest farm market in the Fox Valley, this Saturday event will expand to more than 150 vendors each week and run from June 21 through October 25 in its 22nd season.
The Washington Square Midweek Farm Market – This afternoon/evening farm market is being added on Wednesdays following the success of the Saturday market. It is expected to feature approximately 40 vendors and musicians.
Art on the Town – Returning on the third Friday of each summer month, this event encourages visitors to stroll Downtown Appleton and its multiple art venues while enjoying the themes of Fiber Rain, Chalk on the Town, Paint on the Town and PARK(ing) Day.
Downtown Free Trolley – The trolley provides free transportation throughout Downtown Appleton and the riverfront on Thursday and Friday evenings.
Anchored by this diverse line-up of recurring summer events and activities, Stephany explained that the growth of Downtown Appleton is also a result of fan-favorite events like Octoberfest, Sole Burner, Art at the Park and the Mile of Music festival.
"Combining such a diverse and exciting mix of events has been a critical factor as Downtown Appleton evolves into a top destination for arts and entertainment," she said. "We have a unique, walkable one-mile stretch of businesses and venues that continue to serve as a driving force for our creative economy. It's exciting to see all of the new opportunities in Downtown Appleton."
Appleton Downtown, Inc. (ADI) is a not-for-profit community coalition in Wisconsin dedicated to an economically strong, safe, attractive and exciting downtown. For more information on events, services or businesses in Downtown Appleton, visit http://www.appletondowntown.org.