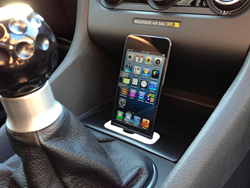 Tucker, GA (PRWEB) May 29, 2014
After negotiating a partnership in early 2014, 2point5, LLC (http://www.2point5.com) - the industry leader in automotive iPod and iPhone integration - has overhauled its entire line of spec.dock products to exclusively include cables and connectors from CableJive, LLC (http://www.cablejive.com), manufacturer of an extensive line of high-quality, unique cables and accessories for iPod and iPhone.
Since the release of the iPhone 5 and the Lightning connector, 2point5 has been shipping Lightning-quipped 3rd generation spec.docks to existing and new customers using the Apple-made Lightning adapter. This has allowed the spec.dock to be used with all iPod and iPhone models, but has come at a cost.
"We wanted to be able to offer an immediate solution to the new Lightning connector for our customers," company founder Matt Turner said Tuesday, "but using the official Apple adapter added $40 in cost per unit. We knew we needed to offer a better solution. That's where CableJive came in."
CableJive has been in the iPod and iPhone accessories business since 2006, solving cabling issues with Apple's devices since its inception. The company manufactures and sells innovative products such as iPod/iPhone audio/video cables, wireless audio solutions, charging cables and extension cables. In the field of unique iPod and iPhone connection needs, they are without rival.
"What we needed was a solution to the problem of connecting a Lightning-equipped device to the car," company founder Randy Lively said Tuesday, "and CableJive's dockXtender was the perfect answer to our problem."
All 4th generation spec.dock models shipping June 1 and beyond will feature CableJive's dock Xtender in 30-pin or Lightning form, completely solving the cost, upgrade and usability issues that have been facing 2point5 since the release of the iPhone 5. Customers will now be able to purchase a spec.dock that works perfectly with their car's audio system for a dramatically reduced price of $129 - up to $60 less than previous versions.
The move couldn't come at a better time, as Apple's CarPlay system is rolling out this Summer in OEM form from companies such as Volvo, BMW, Ford, Honda, Toyoyta and Nissan, to name a few. Aftermarket companies are getting involved as well, with Pioneer being the first to market with a line of CarPlay equipped in-dash units. The 4th gen spec.dock models will connect directly to any system with a Lightning connector with no extra parts needed, giving CarPlay users the best possible iPod and iPhone experience in their cars.
More information on CableJive, 2point5, spec.dock and Apple CarPlay can be found here:
http://www.cablejive.com
http://www.specdock.com
http://www.apple.com/ios/carplay/