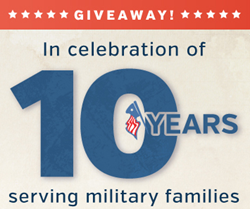 This year is a milestone for AHRN.com and a time to reflect on our past while preparing a roadmap for our bright future.
Waterford, WI (PRWEB) May 28, 2014
June marks the 10th Anniversary for the Automated Housing Referral Network (AHRN.com), the leading trusted housing resource for military communities, that has served 10.5 million unique visitors with 860,000 housing listings at over 500 bases across all branches around the world. To celebrate this milestone, throughout the month of June, AHRN.com will conduct weekly giveaways for the site's members. Armed Forces Vacation Club (AFVC), uShip and Military Luggage joined AHRN.com in donating a total of $5,000 in prizes for the celebration.
For servicemembers and their families, each week random winners will be drawn to win a AFVC resort vacation getaway, a uShip move credit of $1,000, a $250 giftcard from AHRN.com and various military luggage from the Military Luggage Company. AHRN.com collected a range of prizes that would help military families as they PCS/relocate as well as taking time to unwind with a vacation.
To learn more about the 10 Year Anniversary Giveaway Celebration that begins June 2 and ends June 27, visit http://blog.ahrn.com/10-year-celebration-giveaway.
"This year is a milestone for AHRN.com and a time to reflect on our past while preparing a roadmap for our bright future. We couldn't think of a better way to stop and say 'thank you' and honor those who helped made the site what it is today than with a celebration." says Paul Giese, AHRN.com Product Manager. "We thank AFVC, uShip and Military Luggage Company, for participating in our celebration."
About AHRN.com
Founded in 2004, AHRN.com is a thriving online community helping military members and their families lower the stress of a housing transition. The site connects the military community with available housing at their duty station, simplifying the decision making process and easing the burden and costs. AHRN.com has helped over 1.4 million military members across all Service Branches find housing and maintains a 96% satisfaction rating. For more information, visit http://www.ahrn.com and follow @AHRNcom.
About Armed Forces Vacation Club (AFVC)
AFVC is one of the largest military vacation clubs in the world, offering up to 100,000 weeks of inventory worldwide. Members get unlimited access to AFVC's Space Available resort vacation rentals ranging in size from studio to three-bedrooms with prices starting at $349 per unit, per week. All active, reserve, guard, DOD civilian and retired military personnel can join this membership program for free at http://www.AFVClub.com/Join.
About uShip
uShip is the world's largest and most trusted online marketplace for moving and shipping services serving the military relocation, freight, household goods and vehicle shipping markets. With uShip, consumers and businesses can compare and book upfront quotes, name their price or receive auction-style bids from thousands of feedback-rated transportation service providers, ranging from independent owner-operators to the largest freight carriers. http://www.uShip.com/military