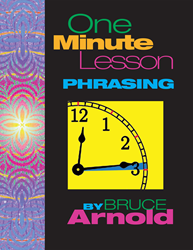 "The content of the One Minute Lessons" aims to show them the many ways they can approach phrasing so they can bust out of that rut and develop a personal sound."
(PRWEB) May 29, 2014
A private music lesson often contains simple observations by a teacher; wisdom imparted in a conversational manner, which although valuable, often does not find its way into a book. "One Minute Lessons" the latest release from Muse-Eek Publishing Company contains many of these brief, yet profound pedagogical insights.
The first in the series covers the all-important topic of Phrasing. In his many years of teaching Bruce Arnold found that even though this is one of the fundamental elements of music, it is an infrequently addressed aspect of teaching, particularly with beginners and those learning from the internet or from books alone.
"So many players get stuck in phrasing ruts. They end up improvising monotonous solos, or composing nondescript melodies. This prevents them from finding their own style and inhibits their musical growth." Says Arnold. "The content of the One Minute Lessons" aims to show them the many ways they can approach phrasing so they can bust out of that rut and develop a personal sound."
Each "One Minute Lesson" contains a video of approximately one minute's duration, and is accompanied by and comes with PDFs, Mp3s, midi files, recommended exercises, and in some cases, suggested further study.
"This isn't supposed to take the place of the years of study that a good musician has to go through to reach full potential. It's more kind of a little blasting cap to say "Hey! This is important, and you'd better start working on it now!" says Arnold. "For example by giving some super-useful, really easy to understand exercises, my students learn to "deconstruct" boring passages and put them back together in emotive, musical ways."
There are 11 "One Minute Lessons" available singly or as a bundle. Some of the phrasing topics covered are: Dynamics, Tags, Rests, Starting and Ending Melodies, Legato and Staccato playing, among others.