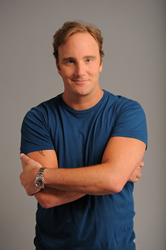 Beverly Hills, CA (PRWEB) May 27, 2014
Jay Mohr Set to Host 15th Annual Golden Trailer Awards
Comedian, actor, radio host and best selling author, Jay Mohr will serve as master of ceremonies for the 15th Annual Golden Trailer Awards, it was announced today by Evelyn Brady-Watters, Golden Trailer Awards Executive Director, along with the show's executive producer Monica Brady. One of the most anticipated evenings of the year for film marketing executives and movie fans, The Golden Trailer Awards will take place on Friday, May 30 with pre-party festivities beginning at 7 pm at the Saban Theater in Beverly Hills. The show begins at 8 PM.
The Golden Trailer Awards acknowledge excellence in motion picture marketing and are presented to nominees in 70 diverse categories that range from serious to lighthearted, including Best Summer 2014 Blockbuster Trailer Award, Trashiest Trailer, Most Romantic Trailer, Best In Show, and the Golden Fleece Award, the statuette that goes to the best trailer for the 'not best' movie. Only 17 of the top honors are presented "live" on stage at The Saban Theater during a show which routinely sells out.
"We could not be more excited to have Jay hosting our show," said Brady-Watters. "He is a great entertainer and comedian and he is the perfect choice to lead our awards ceremony this year. He will infuse The Golden Trailer Awards with the kind of humor and heart that our guests have come to expect. We feel very fortunate to be in such great hands."
In addition to Mohr serving as show host, celebrity and industry judges participating in this year's ceremony include Chris Buck, the co-director of the blockbuster animated smash Frozen, Adam Driver, who was recently announced as a member of the cast of the new Star Wars feature and is a series regular on HBO's hit series "Girls," Doug Ellin, creator of the HBO phenomenon "Entourage," film and television actress Debi Mazar, "Raising Hope" star Garret Dillahunt, Divergent director Neil Burger, and Snow White and the Huntsman writer Evan Daugherty, among many others.
The 15th Annual Golden Trailer Awards are presented with the support of several key sponsors, including Variety, Revolution 9, Position Music, Method Design, NCM Media Networks, Really Slow Motion, Dos Equis, Jose Cuervo, Three Olives Vodka, Lounge Lizard and FCB Garfinkel. Mohr is represented by Barry Katz.
ABOUT JAY MOHR
Comedian, actor, radio host, and best selling author, Jay Mohr has been performing stand-up comedy since he was sixteen years old.
After landing most comedians' dream job at Saturday Night Live, Jay was cast opposite Tom Cruise in Jerry Maguire and Jennifer Anniston in Picture Perfect. Jay has had two highly-rated comedy specials (one on Comedy Central and one on Showtime) and appeared in 25 films with 13 Oscar winners.  After starring in his own groundbreaking series (Action), produced by Joel Silver, Jay played the lead role for two seasons on the critically-acclaimed CBS comedy Gary Unmarried. He has guest-starred on over 50 television dramas and comedy series.
Jay has maintained a balance between comedy and acting, while taking on new challenges in other fields. In 2004, he wrote the best-selling book Gasping for Airtime, about his time on SNL and his battle with panic attacks. Jay's second book, No Wonder My Parents Drank, describes in painful and beautifully funny detail the pros and cons of parenthood. In radio, Jay started as a regular guest host on the nationally-syndicated Jim Rome Show and has been a frequent contributor on Kevin and Bean, Opie and Anthony, and other popular morning programs. In 2012 he started his own podcast, Mohr Stories, which has consistently been one of the top 20 most listened to series on ITunes. His most recent endeavor, Jay Mohr Sports, is a syndicated radio show for Foxsports, Premiere Radio, and ClearChannel.  The show has been syndicated in 125 cities and is one of the fastest growing shows in the history of radio.
Throughout his journey, Jay has always remained, deep in his bones, a stand-up, one of the 100 greatest of all time according to Comedy Central.  He continues to sell out theaters across the country, where he makes the same invitation to every audience:  "Lets just jump off a cliff together and build our wings on the way down!" 
For more information about the Golden Trailer Awards or for tickets, please visit http://www.goldentrailer.com.
For press accreditation or for any media questions, please contact Elzer & Associates.
Rachel Falikoff at 818-384-3881
Steve Elzer at 213-392-4660