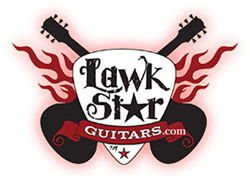 This honor proves that LAWK STAR Guitars has provided exceptional customer service, offered an exemplary retail experience and supported musical education.
Portland, OR (PRWEB) May 27, 2014
The National Association of Music Merchants (NAMM) has named Oregon-based musical instrument retailer LAWK STAR Guitars as one of their Top 100 musical instrument and product retailers and is considering them for the Dealer of the Year award—NAMM's highest honor for retailers. NAMM will formally present LAWK STAR Guitars with the award at the association's trade show, the Summer NAMM, which is being held in Nashville, Tennessee this coming July.
NAMM is an iconic organization amongst professionals in the music industry, which is why it was such a big deal when they announced that 2014 would be the first year that commercial members of NAMM would be invited to nominate retailers. This decision created a wider nominee pool. To ensure proper fairness, a panel of impartial experts who were otherwise unaffiliated with NAMM were selected to judge whether the nominees consistently demonstrated merit in several categories.
This honor proves that LAWK STAR Guitars has provided exceptional customer service, offered an exemplary retail experience that customers would find worth recommending to others or returning for, supported musical education, advocated in the community, employed marketing and merchandising strategies that have promoted repeat sales, planned for the future, maintained an online presence, and engaged with others on social media.
Indeed, this honor now gives LAWK STAR Guitars the opportunity to work with several other iconic musicians and some of the largest musical manufacturers in the world.
NAMM approached LAWK STAR Guitars about the opportunity to enter, educating and encouraging them to take part. NAMM supplied LAWK STAR Guitars a form that they had to complete, which not only involved several hours of work on the computer, but also required LAWK STAR Guitars to provide NAMM with information about their products and their business processes.
Summer NAMM, where the award will be presented, is a big event in the music community. Not only is it an excellent networking opportunity, but it also allows musical professionals and musicians from all across the world to collaborate with one another and participate in an extremely meaningful and memorable experience.
LAWK STAR Guitars is located in Portland, OR. For more information, visit lawkstarguitars.com, email info(at)LAWKSTARGuitars(dot)com, or call/text (503) 915-5824.