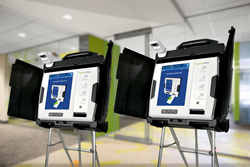 The ES&S voting system will make us more efficient before, during and after each election -- Cameron Quinn Fairfax County General Registrar
Omaha, NE (PRWEB) June 17, 2014
The system purchased by Virginia's most populous county includes the proven DS200® in-precinct paper ballot scanner and tabulator, the company's innovative ExpressVote® Universal Voting System, and the DS850®, which is the election industry's most accurate high-speed central tabulator. This system will be powered by Electionware®, the election industry's newest and most robust election management software.
"The Electoral Board, working with the procurement office and other county agencies, has been focused on getting this system selected and in place for more than a year," said Fairfax County Electoral Board Secretary Brian Schoeneman. "We have spent months reviewing bids and working with potential vendors. We chose ES&S because the company provided both what the county needed and the most cost-effective solution."
The ExpressVote system combines paper-based voting with touch screen technology to create a voting solution technology that can serve every eligible voter. Fairfax County will use the ExpressVote system as a fully compliant solution for voters with disabilities, enabling them to cast ballots privately and independently.
In addition to 600 ExpressVote units, ES&S will provide the county with 525 DS200® units for precinct-level ballot scanning and vote tabulation, including a new onscreen feature that allows election officials to review write-in votes after polls close. The DS200 is equipped with the latest advances, including ES&S' patented Intelligent Mark Recognition® (IMR) and PTRAC® technology that ensures ballots are read accurately and consistently while eliminating manual poll worker adjudication.
The county also purchased one DS850® high-speed central vote scanning and tabulation unit for processing mail-in absentee ballots and 16 Balotar Ballot on Demand® systems for absentee and early voting ballot printing.
Under the agreement, North Carolina-based Printelect Inc. will provide Fairfax County with ballot printing services, onsite support, Election Day support, training, equipment maintenance and project management. Together, ES&S and Printelect have provided election services and support to Virginia jurisdictions for over 35 years.
"We are excited to provide the voters of Fairfax County with this groundbreaking technology," said Fairfax County General Registrar Cameron Quinn. "The ES&S voting system will make us more efficient before, during and after each election."
ABOUT ES&S: Election Systems and Software, LLC (ES&S) is the world's largest elections-only company, providing election equipment and services for nearly 35 years. ES&S serves 42 states and more than 2,400 of the 3,144 county-level governments across the United States. Learn more about ES&S at http://www.essvote.com and on Facebook at http://www.facebook.com/essvote.
ABOUT PRINTELECT: Printelect, one of Southeast's largest full-service elections solutions providers, represents ES&S in North Carolina, South Carolina, and Virginia by selling, servicing and maintaining their election equipment.