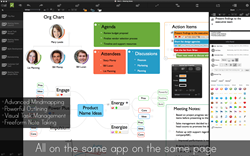 The real magic comes from having your notes, tasks, mindmaps and outlines all connected in front of you on the same app on the same page.
Chicago, IL (PRWEB) May 29, 2014
MagicalPad® today unveils MagicalPad for Mac, the most significant milestone since the original MagicalPad, featuring visual notes, advanced mind mapping and visual task management. Users can manage notes, ideas, mind maps, outlines, checklist and tasks for school, personal and business needs – all on the same page on the same app. Users who are looking for MS OneNote® for iPad and Mac alternatives will just love MagicalPad.
MagicalPad for Mac is another key milestone that shows the company's commitment to their vision of managing information in a freeform endless canvas like a dashboard and accessing it everywhere.
With this release the company now upped the level for productivity apps. It combines five main functions or uses in a nicely combined way, which make MagicalPad a unique notes productivity app. While these functions are powerful on their own, "the real magic comes from having them all connected in front of you on the same app on the same page." said Bouchra Ben, product manager for MagicalPad.
1. Visual Notes - full-featured note-taking & authoring using free form notes. Users can place textboxes, outlines, mind maps, photos, and drawings anywhere on the page. Once done, they can organize pages and notebooks, export content to a variety of formats and share with friends and colleagues.
2. Advanced mind mapping tools suitable for brainstorming and creative note taking. With unlimited mind-maps and outlines freely positioned anywhere on the same page this feature goes beyond regular mindmapping apps that offer only one mindmap per page.
3. Powerful outlining capabilities were the core of MagicaclPad since its inception. Users can structure ideas and move them around the page, merge and split outlines, lists, mindmap branches, attach images, drawings, files and more. Outlines are best suited for hierarchical notes where users need to drag/drop to prioritize and vote for the best idea or outline a research paper for example. Users can create a mindmap of outline and regular note items.
4. Visual task manager is a powerful task management engine that sits within outlines and mind maps enabling users to visually manage tasks like a dashboard. Additional info like icons, tags, due dates, reminders, priority and attachments can be easily added and used to filter by.
5. MagicalPad also includes a dedicated task view where users can focus on tasks due today, tasks with a specific tag or belonging to a specific project for example. Users can switch from task view to page view at any time to keep focused on their tasks while taking more notes.
"With tons of keyboard shortcuts, big screen, mouse and trackpad gestures, users will find endless uses for this versatile app." said Bouchra. They can also export and import their full notebooks easily using dropbox to move their content from the iPad to the Mac and vice versa. Update flags notify users when there is a newer version of the content on the cloud.
About MagicalPad
MagicalPad is a Chicago based start-up provider of innovative productivity applications for visually organizing and managing information and ideas to drive structured thinking, spark creativity, and enhance business innovation and team effectiveness.
MagicalPad for Mac is available here: https://itunes.apple.com/us/app/magicalpad/id864851418?mt=12
MagicalPad for iPad is available here: https://itunes.apple.com/us/app/magicalpad-hd/id463731782?mt=8