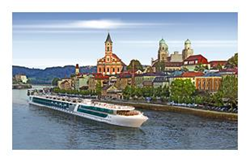 UK (PRWEB UK) 29 May 2014
Emerald Waterways has now launched and their first two 'Star-Ships' have embarked on their maiden voyages; the first ship, Emerald Sky, with the blessing of British style icon Twiggy. Emerald Waterways' success this year has not gone unnoticed, and its collection of 2014 river cruises has been incredibly well received, which means that only a few opportunities remain to travel with Emerald Waterways this year.
The 11-day Classic Prague & Danube Delights from Emerald Waterways is one of their 2014 cruises that has limited availability. Those hoping to travel in October can take advantage of the few Emerald Panorama Balcony Suites that are available, which is a fantastic opportunity to experience Emerald Waterways' revolutionary indoor balcony design – the floor-to-ceiling windows in these cabins drop down to reveal uninterrupted views of the scenery along Europe's rivers. Plus, those who book before 30th June will save £500 per person.
Those who book the 8-day Rhine Discovery river cruise by 30th June can save even more, with savings of up to £900 per person available on selected dates. Emerald Waterways has again seen high demand for this deluxe river cruise, with only a few cabins remaining on 27th September and 11th October departure dates. Some Emerald Panorama Balcony Suites remain, so there is still an opportunity to find out how Emerald Waterways are revolutionising the river cruise experience.
Contact Emerald Waterways by calling for free on 0808 102 0156 to speak to one of their expert advisors and book one of the last available spaces on these and other river cruises.