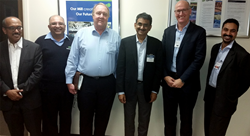 Sydney, Australia/ Chennai, India (PRWEB UK) 28 May 2014
Norske Skog Australasia, a subsidiary of Norske Skogindustrier ASA (one of the largest producers of publication paper in the world), has signed an agreement with global Cloud ERP provider Ramco Systems for Cloud ERP integrated with Asset Management & Financials for its Australasian operations.
Norske Skog Australasia was using legacy enterprise solutions for its Financial and Asset Management requirements that were due for upgrade. The company decided to look for a technology solution built on a modern cloud based architecture to address its present and future IT needs.
"The newsprint industry is going through a structural reform and our IT systems must be capable of supporting both our current and future business needs. Ramco offered us a functionally strong and integrated solution with in-built mobility and analytics to address the end-to-end needs of our operations. With Ramco ERP on Cloud, we will be able to scale and grow on the solution while continuing to control the costs attached to IT", said Mr. Eric Luck, Vice President Finance, Norske Skog Australasia.
Ramco System's solutions will give senior executives cloud-based tools that will help them to optimise existing assets, improve financial performance and provide greater visibility for decision-making include planning for future needs, all accessible via the cloud on mobile devices.
The agreement involves replacing the current legacy Financial and EAM system with Ramco Cloud based ERP system.
Commenting on the Agreement, Mr. Virender Aggarwal, CEO, Ramco Systems, said, "We are excited to add global pulp and paper manufacturer, Norske Skog as our customer. It is a testament to our belief that the solution is functionally capable of replacing large legacy applications. The comprehensiveness of the solution coupled with the inherent benefits of a cloud solution offer a value proposition to the customer. Ramco's focus on Mobility, Usability, and Context-aware solutions further differentiates us in the market."
With three mills at Albury NSW, Boyer in Tasmania and Tasman in New Zealand, Norske Skog is the largest publication paper producer in Australasia with an annual production capacity of 715,000 tonnes of newsprint and magazine grades.
About Norske Skog:
Norske Skog is a world leading producer of newsprint and magazine paper, with 9 paper mills around the world. Its business units and sales network confer a unique position with local presence and customer knowledge.
The world market for newsprint and magazine paper is about 40 million tonnes, and the group has about 8 per cent and 5 per cent of these segments respectively. The groups operating revenue in 2013 was approximately NOK 13 billion.
About Ramco Systems:
Ramco Systems provides next generation, end-to-end enterprise solutions that render complete transformation of the business in real time. Built on Ramco VirtualWorks®, all Ramco products are cloud architected by design and address the entire business cycle from transaction to analytics. Part of the USD 1 Billion Ramco Group, the company offers ERP, HCM, SCM, CRM, Financials, Service Management, Asset Management, Process Control, Project Management and Analytics to multiple verticals on the most appropriate cloud model—public, private and community. Ramco focuses on providing innovative business solutions that can be delivered quickly and cost-effectively in complex environments. Globally, Ramco has over 150,000 users from 1000+ customer organizations. The company currently has 20 offices spread across India, USA, Canada, Europe, Middle East, South Africa and APAC.
For more information, please visit http://www.ramco.com/erp-suite/.
Follow Ramco on Twitter @ramcosystems/read latest updates on http://www.ramco.com/blog.
For further information, contact:
Vinitha Ramani
+91 - 9840368048
vinitharamani(at)ramco(dot)com; pr(at)ramco(dot)com