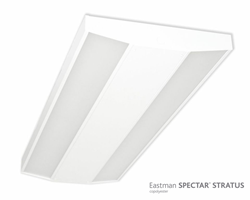 The impact-resistant and design flexibility qualities inherent to Spectar Stratus mean that it's easier to work with, it's easier to ship, and it's easier to install. For consumers, better impact resistance means it's easier to live with.
Kingsport, Tenn. (PRWEB) June 03, 2014
Not since the invention of the light bulb has the lighting industry experienced so much innovation. Fueled by governmental regulations and technological advancements, LED's share of the lighting market is projected to grow to approximately 70 percent by 2020, according to McKinsey & Company. Eastman Chemical Company is bringing its unique expertise and knowledge of durable and sustainable copolyesters to the rapidly expanding LED lighting segment with the introduction of Eastman Spectar™ Stratus copolyester.
High light transmission plus hiding power
The intensity of an LED can be unappealing to the eye and create "hot spots" when diffused through conventional plastics or glass. Spectar Stratus can be extruded or injection molded to diffuse the light emitted from LEDs without significantly decreasing the light intensity. Depending on the selected gauge of the final product, Spectar Stratus boasts light-transmission levels between 80 and 85 percent. This minimal loss of light output allows maximum lumens per watt (lm/W) for the unit, preserving the desired effect of a diffuser without compromising light quality. And, diffusers made from Spectar Stratus exhibit outstanding hiding power – the LED points of light are smoothly diffused and evenly distributed, making them virtually invisible.
"Spectar Stratus was designed to maximize the lumens/watt that is so critical in the commercial and industrial LED segments as well as make the luminaire as aesthetically pleasing as possible by hiding all the points of light," said Brad Potter, market development manager for Specialty Plastics at Eastman. "With Spectar Stratus you get all the benefits of Spectar that our customers love with the added feature of LED hiding."
Sustainable and nearly unbreakable
Stratus technology, when added to Eastman Spectar™ copolyester, seamlessly combines the benefits of copolyesters with state-of-the-art light diffusion and transmission properties. The copolyester properties inherent to Spectar render products made from this technology nearly unbreakable. Unlike many other light diffusers, which can crack in shipping or during use, Spectar Stratus is able to withstand impacts up to 15 times greater than other diffusers made from most competing materials and 18 times greater than general-purpose acrylic products.
This stability and impact resistance allows easier shipping and handling, simpler installation, and a longer installed life. Its deep draw capabilities – the properties which enable Spectar Stratus to be thermoformed into unique shapes without compromising its structural integrity – allow Spectar Stratus to exhibit extraordinary design flexibility.
Not only does Spectar Stratus offer improved impact resistance, which means fewer replacements over time, it also is BPA-free. And Eastman Spectar™ copolyester is GREENGUARD Indoor Air Quality Certified® and has an MBDC Cradle to Cradle® silver certification, making it suitable for today's green-built homes.
"The impact-resistance and design flexibility qualities inherent to Spectar Stratus mean that it's easier to work with, it's easier to ship, and it's easier to install. For consumers, better impact resistance means it's easier to live with," said Mark Peters, application development associate at Eastman.
Simplified processing and outstanding chemical resistance
Eastman Spectar Stratus copolyester offers unique advantages. For manufacturers, processing is greatly simplified. With a low thermoforming temperature, and no need to pre-dry the material before thermoforming, Spectar Stratus makes production faster and simpler than that of competitive products. The material also displays excellent cold-bending properties and exhibits outstanding chemical resistance to a wide array of chemicals and cleaners without compromising the benefits of the product.
For more information on Eastman Spectar™ Stratus copolyester, visit http://www.eastman.com/spectar.
Eastman Chemical Company
Eastman is a global specialty chemical company that produces a broad range of products found in items people use every day. With a portfolio of specialty businesses, Eastman works with customers to deliver innovative products and solutions while maintaining a commitment to safety and sustainability. Its market-driven approaches take advantage of world-class technology platforms and leading positions in attractive end markets such as transportation, building and construction and consumables. Eastman focuses on creating consistent, superior value for all stakeholders. As a globally diverse company, Eastman serves customers in approximately 100 countries and had 2013 revenues of approximately $9.4 billion. The company is headquartered in Kingsport, Tenn., and employs approximately 14,000 people around the world. For more information, visit http://www.eastman.com.
# # #
Note to Editors: Eastman will be represented at Light Fair in the A.L.P. Lighting Components' Booth #5008, June 3-5, 2014, in Las Vegas.