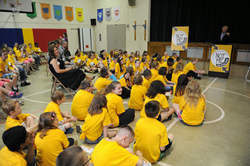 'The unique collaboration between my office, the police department, fire department, school district, hospital and local businesses will allow us to provide a consistent, pervasive message throughout Cuyahoga Falls: We are drug free.' - Mayor Don Walters
Cuyahoga Falls, Ohio (PRWEB) May 29, 2014
In a widespread collaboration, the Cuyahoga Falls community has come together to launch "Not Me, I'm Drug Free," an anti-drug campaign that unites the Mayor's office, Cuyahoga Falls and Woodridge school districts, police department, fire department, community businesses and Western Reserve Hospital in an unprecedented effort to curb drug abuse — especially meth and heroin — in Cuyahoga Falls.
The "Not Me, I'm Drug Free" campaign is designed to educate Cuyahoga Falls area elementary school students about the dangers of using meth and heroin by connecting with them using Facebook, yard signs, posters, T-shirts, incentive cards and much more.
"Drug abuse is a growing problem in Cuyahoga Falls, and we must be proactive as a community to address and minimize this life-destroying problem," said Mayor Don Walters. "The unique collaboration between my office, the police department, fire department, school district, hospital and local businesses will allow us to provide a consistent, pervasive message throughout Cuyahoga Falls: We are drug free."
The initiative was launched on May 28, 2014 at an event held at DeWitt Elementary School, where Mayor Walters, Dr. Kent, Police Chief Jack Davis, Fire Chief Paul Moledor, Cuyahoga Falls City Schools Superintendent Dr. Todd Nichols and Woodridge Schools Superintendent Walter Davis all spoke to the students, parents and community.
Students and families who abstain from drugs can take advantage of the 'Free'-wards incentive card, which offers valuable perks on food and family activities in and around Cuyahoga Falls.
Some of these perks include a free set of ear buds at Western Reserve Hospital, admission to Water Works Family Aquatic Center, rentals at Family Video, food and desserts at many area restaurants and much more. Additionally, Bob Earley's Rockin' on the River, a free concert series held every Friday night throughout the summer in downtown Cuyahoga Falls, will be featuring the "Not Me, I'm Drug Free" campaign on its jumbo stage screens and promotional materials will be handed out at every event.
To learn more about the "Not Me, I'm Drug Free" anti-drug campaign, or to learn more about the devastating effects of heroin and meth abuse, visit and like the Facebook page at Facebook.com/NotMeDrugFree.
About Western Reserve Hospital
Western Reserve Hospital is the Northeast Ohio region's first physician-owned, for-profit, full service hospital. With a commitment to patient satisfaction and improved healthcare delivery, Western Reserve Hospital offers general and acute care services, including a 24/7 emergency department. Western Reserve Hospital is also a teaching facility and sponsors graduate medical education teaching programs in osteopathic medicine. The hospital is a majority physician-owned joint venture between Western Reserve Hospital Partners (which represents a collaboration of more than 200 physicians, including primary care physicians, surgeons and specialists) and Summa Health System.