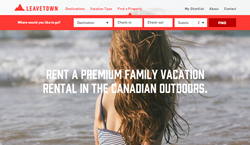 Vacation rentals is a rapidly growing industry and set to take on hotels in coming years.
Vancouver, British Columbia (PRWEB) June 05, 2014
Leavetown Vacation Inc. is pleased to announce the launch of its new vacation rental booking website, featuring some of Canada's most spectacular and iconic family vacation destinations.
Developed in partnership with Frank Strategy and WestTech Labs, the site focuses on offering vacation rental properties that allow couples, families and friends to enjoy a truly memorable home-away-from-home vacation experience.
"Vacation rentals is a rapidly growing industry and set to take on hotels in coming years", says Leavetown Director of E-commerce Chester Ku-Lea. According to research from leading travel market researchers, online rental bookings have doubled from 12% in 2007 to 24% in 2012. "People like the privacy and independence, not to mention exceptional value for money. This represents a tremendous opportunity for Leavetown as we meet the shifting demands of the evolving tourism market."
New look. Next generation features.
Featuring a sleek new responsive mobile friendly design and fabulous properties, the site provides invaluable insider knowledge and tips from Destination Experts. Their local knowledge, blog reports, feature articles and updates make travel planning even more enjoyable while helping ensure customers choose the best possible holiday locations.
Travellers can now search leavetown.com for best pricing across vacation rentals using amenity filters while researching multiple sources of reviews, including TripAdvisor, Google, Yelp and Leavetown. They can also create shortlists for sharing with friends and family before booking online.
About LeaveTown
LeaveTown Vacations Inc. emerged from its founder's passion to bring families together and to help travellers explore Canada's great outdoors. LeaveTown owns and represents vacation rentals in Canmore, Banff, Jasper, Lake Louise, Parksville, Osoyoos, Fernie, Kimberley, Revelstoke, Kicking Horse Mountain and Mont Tremblant. LeaveTown Destination Experts stay current on events and activities in each destination to provide local insights to travellers in each resort location, allowing them to make the best use of their valuable holiday time.