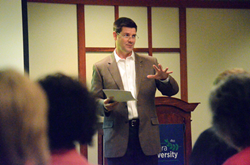 Having a client-focused organization occurs when all employees see their critical role in the relationship.
Aurora, IL (PRWEB) June 12, 2014
Chris Tews, an Account Executive from the Aurora, IL-based, multi-channel marketing service provider Kelmscott Communications, addressed the Human Resources Institute on "Building a Client-Focused Organization from the Inside Out". The presentation was held April 30 at Aurora University and was co-sponsored by AU's Dunham School of Business and Gallagher Benefit Services of Naperville.
"Having a client-focused organization occurs when all employees see their critical role in the relationship," said Tews.
About fifty human resources and sales professionals attended the interactive presentation, which included time for discussion as well as networking afterwards. Tews encouraged companies to empower their employees to participate in the company messaging. He also highlighted the different types of "brand advocate" personalities that companies may have, and discussed ways to endear the company message to them.
"Realizing that different characteristics are at work in your team allows you to customize the messaging tools so employees can connect with their favorites," he said.
Tews is just one of the many executives available for speaking engagements from Kelmscott Communications. Kelmscott Executives offer presentations on a variety of marketing, higher education, human resources and non-profit industry topics.
Kelmscott Communications is a recent winner of the Annual Award for Business Excellence (AABE) from the Daily Herald Business Ledger in the "Innovation" category for their new "Kelmscott Connect" program. The program is a systematic process to multi-channel marketing, which includes synchronizing strategy, creative design and content, e-solutions, print, direct mail and promotional products and data. Kelmscott was also recognized by Printing Impressions magazine in 2011 and 2012 and received Awards of Excellence from the Great Lakes Graphics Association in 2012 and 2013.
About Kelmscott Communications: Since its inception in 1936, Kelmscott Communications has grown to offer full-service marketing solutions with a wide range of capabilities that include: strategy, design, e-business, targeted mail, data management, promotional products and traditional and large format printing. Through its proprietary "Kelmscott Connect" interface, the company combines robust production capabilities with a systematic approach to help multi-channel marketers achieve measureable results and enhanced value. Kelmscott Communications is located in Aurora at 1665 Mallette Road. For more information, call (630) 898-0800 or http://www.kelmscott.com.