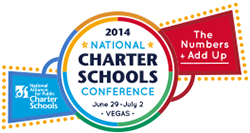 ...with privately owned charter schools, budget becomes more of a reality than ever...We find a great need for our services in this particular industry." - Tony Galstyan, President, AMG Time
Las Vegas, NV (PRWEB) May 28, 2014
AMG Time announced that they will be participating in the 2014 conference for the National Alliance for Public Charter Schools held in Las Vegas this summer. This conference will bring together the industry's top pioneers, leading the movement for growth of public charter schools throughout the United States. As a leading supplier of time management software, AMG Time will provide their valuable insight into improving the fiscal accountability of schools through accurate time management systems that will allow these educational institutions to keep their money in the classrooms and attract quality teachers while avoiding unnecessary payroll waste.
"When schools are under control by the government, honor systems and manual time cards might fly, but with privately owned charter schools, budget becomes more of a reality than ever. With AMG Time, these charter schools are really benefiting from the time and money saved with the outstanding organization of an automated system. We find a great need for our services in this particular industry." - Tony Galstyan, President, AMG Time
Charter schools have seen 100% increases over the past decade with millions of students enrolled in a push to change the way children are educated. These schools are often funded with limited budgets, making the need for limiting payroll waste critical. AMG Time offers strategic solutions by eliminating dependence on the honor system for employees or time consuming manual systems that cut into a school's budget.
AMG Time will provide charter schools with a valuable tool, which will allow them to accurately track employee time through a wide range of options that have suited many businesses for over 20 years. Their leading biometric and fingerprint scanning systems for employees prevent time theft and provide fully automated and customizable tools that seamlessly integrate into payroll systems. These time systems will be of utmost importance to charter schools as student enrollment and the need for more teachers and staff continues to grow over the next several decades.
About AMG Time
With over 20 years of industry experience, AMG Time is a national leader in time attendance products, software, and services. This innovative Los Angeles company has a passion for providing employers with time attendance systems that boost the accuracy of time and payroll records. Built upon a commitment to customize, AMG Time will design the time employee management system that is perfect for any size business.
For more information about AMG Time, please visit: http://www.amgtime.com.
For more information about the 2014 National Charter Schools Conference, please visit: http://www.publiccharters.org/involved/conference-2014/.
By: Kymmie Krieger