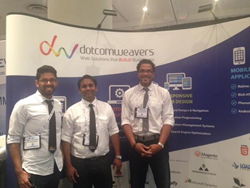 B2B eCommerce is going to play a critical role in our company growth.
Paramus, New Jersey (PRWEB) May 29, 2014
IRCE held one of its biggest networking events, Brands and B2B Conference and Trade Show in New York, May 18 through May 20. It featured more than 30 speakers involved in business to business (B2B) and eCommerce and more than 50 exhibitors providing such technology and services.
As eCommerce specialists, New Jersey-based Dotcomweavers showcased at the event representing cutting-edge solutions that help businesses excel online. Increased online shopping by business to business has expanded Dotcomweavers focus from simply B2C but also to include B2B. "IRCE is known as the largest eCommerce conference and exhibition event of the year," said Amit Bhaiya, Dotcomweavers Co-founder and President. "If we want to continue to grow in the eCommerce space, then we must take part in these type of networking events."
Many of the attendees at this event were small retailers just starting out or online retail giants like Amazon.com looking to expand upon their knowledge and network with industry peers.
According to a recent article on Internet Retailer, http://www.internetretailer.com, B2B online shoppers want custom price lists, dynamic site search and better account management. With many online B2B sellers wanting more intuitive and flexible solutions, speakers at the IRCE event dig deeper into these topics, as well as other ones that impact and improve your business.
Dotcomweavers customer base is focused on SMBs. Many of whom that want to move from basic online stores to more robust and scalable solutions with better performance metrics. However, B2B is significantly different to B2C and customers whose business model is B2B centric require flexible solutions and integrations with their manufacturers, wholesalers and distributors. Dotcomweavers provides the tools for selling and buying efficiency and offers its B2B customers streamlined solutions with integration capabilities for things like punch-out or custom catalogs, customer price groups, purchase orders and ERPs.
Along with these solutions, Dotcomweavers offers its ecommerce customer's integrations with various tax products, payment solutions and document management solutions.
About: Dotcomweavers is a cutting-edge web design and development company headquartered in Paramus, New Jersey. Dotcomweavers builds end-to-end web solutions using various open source platforms, proprietary solutions and customizable technologies. Founded in 2005, Dotcomweavers has become the leader in providing first to market innovative web solutions that are flexible and cost-efficient.
info(at)dotcomweavers(dot)com
Dotcomweavers
140 East Ridgewood Ave.
South Tower
Paramus, New Jersey, 07652
About IRCE - IR Events Group, a division of GLM, delivers high value and industry-leading content and industry resources throughout the year, including IRCE, the world's largest e-commerce conference and exhibition, and IRCE Focus, a series of targeted education and resource events throughout the year.
Contact: For customer service, please call 800-352-IRCE, or 312-292-9000. (Monday - Friday 9:00 A.M. - 5:00 P.M. EST)