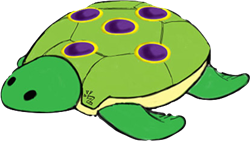 By providing what we're calling accessible play for all children, we're giving children the freedom to explore their own capabilities. This is what freedom through technology means. Dr. Ayanna Howard
(PRWEB) May 29, 2014
Millions of kids who have trouble moving their hands and arms aren't able to play computer games or use tablet computers like their friends. Dr. Ayanna Howard and her team at technology start up, Zyrobotics, invented Zumo™ so kids of all abilities can play video games and interact with tablets just like everyone else. A Kickstarter campaign launches May 30th to help bring Zumo to life.
"We're so excited about being ready to launch a Kickstarter campaign for Zumo. By providing what we're calling accessible play for all children, no matter what their ability level, we're giving children the freedom to explore their own capabilities. This is what freedom through technology means," explains Dr. Ayanna Howard, Founder and Chief Technology Officer for Zyrobotics.
Zumo™ is a smart toy every child can use to control tablet Apps and games. Access to play shouldn't be limited by a child's fine motor skills.
Zyrobotics hopes to raise $65,000 during the Kickstarter campaign so Zumo can be manufactured. The Kickstarter campaign runs May 30 through June 14, 2014. http://zyrobotics.com/kickstarter/
What is Zumo?
Zumo is a patent-pending Plush Switch™ in the shape of a turtle or a ladybug that connects by bluetooth to your iOS or Android tablet. Setting up Zumo is as easy as pairing the device to your tablet. Sensors embedded within the plush switch can be configured as a single input, or independently to increase functionality. This enables functionality as simple as a single touch-based input to more complex up, down, left, right joystick actions. The sensors are connected to TabAccess™, Zumo's "brain". TabAccess technology is developed under an exclusive license with Georgia Tech in Atlanta, Georgia.
When Zumo connects wirelessly to the tablet, by pressing Zumo's buttons, apps respond to the child's input, just as if they had touched the screen. Children are provided a unique experience by mapping their physical movements to touchscreen gestures. They can bang with their hands, step with their feet, or press gently with their fingers - any movement they can imagine to be fun can be used.
Zumo offers many different play experiences through interaction with various Apps already available on the iTunes Store or Google Play. Zumo lets you navigate through Apps by emulating joystick, mouse, or keyboard inputs.
Zyrobotics also developed a new suite of Apps, especially designed to work with Zumo and appeal to children of all ages. In celebration of their Kickstarter launch, Zyrobotics is releasing one of their switch-accessible Zyrobotics Apps for free for a limited time on both Google Play and the iTunes Store.
https://itunes.apple.com/us/app/zyrosky-run/id866332937?ls=1&mt=8
https://play.google.com/store/apps/details?id=com.phantasm.RunnerGame.android
About Zyrobotics
Zyrobotics, LLC provides technology-based enabling solutions for persons with mild to severe motor limitations. Our mission is to enable freedom through technology by developing products that are adaptive to each individual's capabilities. For children, our products uniquely focus on accessible play. Zyrobotics' first product offerings include switch-to-tablet interactive toys, interactive robots, and a suite of gaming apps that are specially designed to enable accessible play.
Zyrobotics, LLC was founded in 2013 as a Venturelab startup company. Venturelab is the University business incubator affiliated with the Georgia Institute of Technology. To learn more, visit http://www.zyrobotics.com. Follow us on Facebook and Twitter.