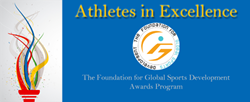 "Too often we hear negative news about athletes, which makes it all the more necessary to revere those who are making a real difference in our communities." - Dr. Steven Ungerleider
Los Angeles, CA (PRWEB) May 29, 2014
The Foundation for Global Sports Development (GSD) has announced the launch of their latest awards program, the GSD Athletes in Excellence Award, created to recognize the dedication of exceptional athletes committed to upholding the values of fair play, sportsmanship, education, and drug-free competition in the world of sports.
This prestigious award was designed to honor competing and retired athletes, domestically and internationally, who have been role models, leaders and champions not just in sports, but in their communities by selflessly giving back through mentorship and outreach activities. Award nominations will be accepted through mid-August, and the winners will be announced this fall. In addition to the esteemed award, recipients will be presented with a $10,000 grant.
"Our goal is to spotlight those athletes who are positive role models for youth and aspiring athletes," said Dr. Steven Ungerleider. "Too often we hear negative news about athletes, which makes it all the more necessary to revere those who are making a real difference in our communities."
"We are humbled by athletes who have sacrificed so much in tirelessly training for competition, yet still find time to give back," added David Ulich, executive board member of GSD. "This award program is a way for us to express our appreciation for all they do."
GSD is committed to continuously supporting programs and initiatives that celebrate the athletes who do so much to inspire youth from around the world. For further details on the award and submission instructions, please visit GSD's website at http://www.globalsportsdevelopment.org.
About Global Sports Development
Working closely with international sports federations, generous donors and committed athletes, The Foundation for Global Sports Development promotes sportsmanship, education, fair play and ethics among the world's youth. The Foundation gives special emphasis to groups and communities that are most in need or most underserved by current programs, including women, minorities and youth in areas where the risk of delinquency is particularly high. Visit http://www.globalsportsdevelopment.org to learn more.