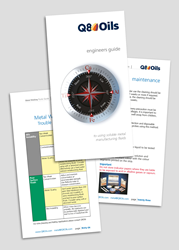 The guide concentrates on providing practical advice to users on achieving the best from their manufacturing systems
Leeds, UK (PRWEB UK) 29 May 2014
The Q8Oils metal working fluids guide provides users with information and advice on managing water miscible and neat metal working fluids throughout every stage of the manufacturing process.
As Q8Oils brand and communications manager Neil Grieve explains, the content of the engineers guide is based on the company's 100 years of metal working fluid experience and presents a broad understanding of cutting fluids, wire drawing, and rolling emulsion management rather than covering every detail: "The guide concentrates on providing practical advice to users on achieving the best from their manufacturing systems and, more importantly, how to avoid mistakes that can be made during system design and product selection."
The guide covers the essentials of maintenance and the condition monitoring of emulsions, as well as offering advice on what can be done if or when mistakes do happen. Readers will also find information on the correct storage, mixing and safe handling of neat and soluble cutting oils; and recommended procedures for the safe waste disposal of soluble metal working fluids at the end of their useful life. As well as the English language version, the guide is also available in French, Dutch and German.
For newcomers to the industry, the pocket guide also provides a simple terminology section; and for the more experienced user, a tabular trouble-shooting guide covers topics such as corrosion, foaming, mix instability, poor surface finish, tool/wheel life, rancidity and residue.
For your copy of the new 'Engineers Guide' from Q8Oils, contact the international office on +32 (0)3 247 38 11, the UK office on +44 (0)113 235 0555 or email metal(at)Q8Oils(dot)com. Alternatively, please contact your local Q8Oils field service technician or representative.
Q8Oils has a unique, innovative and progressive approach when it comes to producing some of the World's finest quality lubricants. Q8Oils represent the very best and latest in lubricant technology and delivers this direct to customers across the Industrial and Automotive sectors.