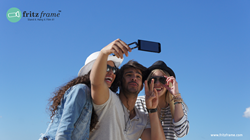 the ultimate all-in-one iPhone case that allows for hands free photos, videos, viewing, and more, and does it all without altering the sleek and lightweight feel of the phone
Santa Barbara, California (PRWEB) June 03, 2014
Ready for the biggest innovation in iPhone use since its creation? Head over to Indiegogo and be one of the first to experience the future in cutting-edge iPhone use and capability.
fritzframe is the ultimate all-in-one iPhone case that allows for hands-free photos, videos, viewing, and more, and does it all without altering the sleek and lightweight feel of the phone! The first of its kind, it features a bendable, twistable frame that functions as a durable stand, grip, and handle that not only stabilizes for steady shots, but integrates perfectly into the look of the iPhone with style, strength and simplicity.
This case is the next stage in iPhone use evolution and can do so much more than protect. Have a Skype meeting but need to keep hands free? The fritzframe easily morphs into a sturdy stand for vertical or horizontal viewing without a separate accessory. No more craning of the neck to follow recipe videos while cooking. Use fritzframe to hang your iPhone from a visible location on the wall or from a rack. Need a steady photo or video shot but don't have a flat surface? fritzframe twists and adjusts for stabilized and perfectly positioned frames every time.
Say goodbye to awkward, arm-length selfies. With the fritzframe app, the iPhone does all the work at your command resulting in slammin selfies every time. Just grip the fritzframe handle or twist and bend to stand on any surface. Then say "photo" and the fritzframe app responds to your command taking the perfect pic minus outstretched arms or that tense look of concentration from straining to press a button, while holding steady.
Light as a pencil, with the strength of the Hulk, fritzframe is made from aircraft aluminum 6061 which not only makes it pretty, but resistant to corrosion as well. Available in two chic colors—silver and black, fritzframe enhances the look of any iPhone and fits so seamlessly into the design no one will know it's capable of so much more.
fritzframe is the first product from Right Move Gadgets and its getting its crowd-funding on Indiegogo.com. Be among the first to own this innovative awesomeness and contribute to the launch of the next big advancement in quality multi-function tech accessories.
Right Move Gadgets is a multi-national startup that launched in February of 2014. Inspired by role models like Steve Jobs, founder Frank Mansfeld, holds his product to the highest standards in technology, innovation, and design. Frank Mansfeld can be contacted directly at frank(at)fritzframe(dot)com.
For samples or additional information, please visit http://www.fritzframe.com or Leah(at)chicblvd(dot)com.
Contact:
Leah Cybulski
Public Relations Account Executive
ChicExecs PR - Chicago
3716 East Avenue
Berwyn, IL 60402
708.426.8730 P
866.694.0843 F
Leah(at)chicblvd(dot)com
ChicExecs PR is an "out of the box" PR company which represents over 70 clients. ChicExecs has created an innovative approach to PR dedicated to helping small-medium businesses receive media coverage. Our revolutionary automated system is changing the face of PR. To learn more about ChicExecs visit Home.
The all-in-one iPhone case that lets you Stand it—Hang it—and Film it with no add