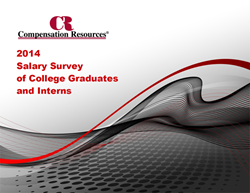 Upper Saddle River, NJ (PRWEB) June 02, 2014
Compensation Resources, Inc. (CRI) has released the results of its 2014 Salary Survey of College Graduates and Interns. Data was collected between February and April and results were compiled from survey questions that were developed by Compensation Resources, Inc. and distributed to companies in all industrial classifications, broken down among six categories. There were 126 organizations that participated in this study.
This survey captured salary data for college graduates and interns in the following majors:
Actuarial - Agriculture and Forestry - Architecture - Business and Finance - Computers and Web Related - Education - Engineering - Fine and Performing Arts - Language and Literature - Liberal Arts - Marketing, Public Relations, and Communications - Math and Statistics - Medical and Health Related - Public Administration - Religious Studies - Retail and Merchandising - Sciences (Biological, Chemistry, Pharma, etc.) - Social Science and History
Results show that 2014 overall starting salaries for all degree recipients increased 2% compared to the 2013 survey. Of the eighteen disciplines represented in the survey, the three highest paying departments and departments with the most incumbents hired are:
Highest Paying - Engineering, Sciences, Medical and Health Related
Most Incumbents Hired - Business and Finance, Engineering, Computers and Web Related
Also, some of the most popular job groups reported include: Accounting, Engineers, Financial Analysts, Human Resources, and Nursing. Over 67% of organizations said they will be hiring the same number of graduates as last year (67.3%) and over 20% will be hiring more than last year (23.5%).
The cost of the survey is $140. The survey is available for download or hard copy purchase at http://www.compensationresources.com.
For more information regarding this survey or to learn more about our other survey offerings, please contact Andy Sellers, Data Services Manager, at (201) 934-0505 x115.