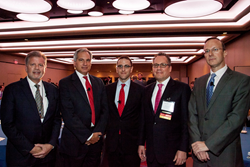 New York, NY (PRWEB) May 30, 2014
Metropolitan Business Network (MBN), a highly-selective organization comprised of top-tier business owners and senior level decision makers in New York City, proudly announces that MBN President Marc R. Shapses successfully lead a lively networking event and panel discussion: "Tech in the City: Cornell-Technion's Impact on NYC's Economic Future". The event focused on how the establishment of the 2-million-square-foot applied science and engineering campus on Manhattan's Roosevelt Island will dramatically increase New York's potential for economic growth.
Mr. Shapses, in addition to his role as President of the MBN, serves as Executive Managing Director at Studley, the leading global commercial real estate services firm.
Moderated by Michael Colacino, President of Studley, panelists included Craig Gotsman, Founding Director, Jacobs Technion-Cornell Innovation Institute of Cornell Tech; Seth Pinsky, Executive Vice President, Fund Manager, Metro Emerging Markets & Public Affairs Director, RXR; and Brian S. Cohen, Chairman/ CEO, New York Angels/ Launch.it. The discussion focused on corporate co-location, designed to foster interactions and collaboration between the tech community, businesses and Cornell Tech students and faculty.
The panel discussion was followed by cocktails and hors d'oeuvres and allowed a chance for further networking with the guests.
The MBN is a highly-selective organization: prospective members must be sponsored by a current member and then undergo a rigorous review. The event's platinum sponsors included Howard L. Zimmerman Architects and Lane Office, while gold sponsors included Arista, Champion Windows, Digiscribe, Epromos, FSO & FSS, LDI, Perfect Building Maintenance, Rothstein Kass, Spector Group and tmg e-media.
For more information about the Metropolitan Business Network, visit mbnnyc.com.
About Studley
Studley is the leading global commercial real estate services firm specializing in tenant representation. Founded in 1954, Studley pioneered the conflict-free business model of representing tenants in their commercial real estate transactions. Studley offers expert advisory services, including brokerage, project management, corporate services and strategic portfolio solutions. Studley's unique approach examines every client's business to fully understand corporate objectives and optimize real estate assets. For more information, please visit http://www.studley.com and follow us on Twitter @StudleyInc and LinkedIn.