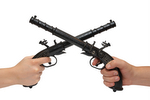 (PRWEB) June 03, 2014
The new short story competition, The Writer's Arena (http://thewritersarena.com,) gives writers the ability to gain visibility for their writing while also providing the adrenaline rush of a challenging competition in hopes that they will reign victorious against their opponent.
The Writer's Arena is changing the way short stories are read. This new competition is part Iron Chef, part Paris Review. Two authors are chosen each week, one from the stable of arena "residents" and one a challenger. They are both issued the same prompt, then have ten days to write a short story following the guidelines they've been given. The stories are published online while fans and judges weigh in to decide who will be the champion of the arena for that week.
The story prompts are varied, from basic requests for a murder mystery to detailed prompts asking for stories about a specific phenomenon. The site trends towards the genres of science fiction and fantasy; however, literary fiction, horror, humorous stories, and many other genres are available to the writers as well. The writers in the competition have the freedom to write any short story they'd like, as long as it is relevant to the prompt.
About The Writer's Arena
The Writer's Arena was created by Joseph Devon, author of The Matthew and Epp series of novels and the 26 Stories in 52 Weeks short story challenge, and Tony Southcotte, co-host of The Human Echoes Podcast.
For more information about The Writer's Arena, visit the website at http://thewritersarena.com
To learn how to register and see if you have what it takes to compete, visit http://thewritersarena.com/want-to-compete/. Interested competitors will send examples of their previous work to HEPodcast(at)gmail(dot)com so that the judges will be able to decide if the writer has what it takes to compete in the competition.