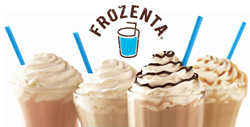 Frozenta's all-in-one base mixes offer the flexibility to create any number of unique drink combinations with just one powder. - Josiah Myers
St. Louis, MO (PRWEB) May 30, 2014
With the introduction of Frozenta frozen drink mixes, independent coffee shops have a versatile, profitable new option for creating blended coffee, tea and frozen hot chocolate drinks. Frozenta's Polar Powder and Hot Chocolate Freeze base drink mixes are designed to create delicious frozen drinks that deliver more profit per cup.
Polar Powder provides a sweet, creamy base for a wide variety of frozen coffee and tea beverages. The universal blend allows for less clutter behind the counter and a greater range of blended drink options. Made with imported European chocolate, Hot Chocolate Freeze adds frozen flare to the taste of hot chocolate and mocha drinks and can create a new espresso-free drink option that is indulgent for dessert or as a shared drink for two.
Product Launch Leader Josiah Myers and his team will demonstrate the new Frozenta line at Coffee Fest St. Louis. "Frozenta's all-in-one base mixes offer the flexibility to create any number of unique drink combinations with just one powder," he said. "With less waste and more efficiency behind the counter, Frozenta drink mixes offer the most economical and delicious choice for creating summer's most in-demand drinks."
Sold in cases of 12, 2-pound bags, Frozenta mixes are the most profitable choice for making summer's frozen espresso drinks, hot chocolate freeze beverages and frozen chai drinks. Priced at just $4.50 per pound, with no case minimum and free shipping, the mixes cost only $.85 per 16-ounce drink.
About Frozenta
Launched in 2014, Frozenta is a Columbus, Ohio-based wholesale distributor of versatile mixes used to make frozen espresso, tea and hot chocolate drinks. The company's all-in-one Polar Powder and Hot Chocolate Freeze base mixes offer coffee shops, cafés and restaurants the flexibility to create unique blended drink combinations from a single powder. To learn more, visit http://www.frozenta.com.