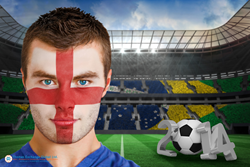 Watching football in the world's greenest football stadium neighbouring Amazon will be a life changing experience. Are the travelling British football fans ready for a unique Brazilian challenge.
London, UK (PRWEB UK) 5 June 2014
England will start their campaign on 14th of June against Italy in Manaus. One of the most isolated metros on the planet, Manaus is a city hidden in a jungle. The mighty Amazon comprises more than half of the world's rain forests and is the most breathtaking bio diversity experience a traveller can have.
However BBC reported on 12th May that, "Manaus is 2,360 miles from Sao Paulo by road - a journey roughly equivalent to driving from London to the south of Turkey. That drive would take more than two days." The report also suggested that the cost of food, beverage and accommodation will be expensive during the football tournament.
Manaus is a metropolitan hidden in a thick forest. The modern city would be an ideal location to witness the kick start of English Campaign but also a springboard to the rainforest which traverses several countries around South America. In order to be prepared for the challenge of visiting Manaus and enjoying the whole World Cup, it is essential for football fans to have enough money to last for the entire event. The best way to make their money go further is to use a reputable currency exchange service that offers the best rates.
For travelling football fans visiting Latin America during the summer, Thomas Exchange Global offers the most competitive exchange rates in London. As the largest stockist of foreign currencies in London with over 120 types, they hold sufficient stocks of South American currencies comprising Brazilian Real, Colombian Peso, Peruvian Nuevo Sol, Mexican Pesos and Argentinean Pesos.
About Thomas Exchange Global Ltd
As dedicated foreign exchange specialists, Thomas Exchange Global has the professional expertise, in depth market knowledge, technological infrastructure and commitment to provide an unprecedented level of service that sets the standard in the foreign exchange industry. They are specialists in all areas of foreign exchange. They provide commission free currency as well as travellers cheques.
Thomas Exchange Global also offers International Money Transfer Service where funds can be remitted to overseas bank accounts within 1 to 2 days. With commission free service for transfers over £10,000 backed by competitive exchange rates, customers are assured of a better deal and a substantial saving compared to banks and money brokers.
Thomas Exchange Global branches are located at Strand, Victoria Street, Liverpool Street, Hammersmith, Cannon Street and Wormwood Street.