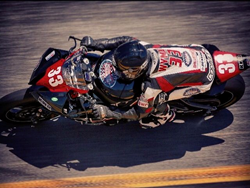 Plymouth,WI (PRWEB) May 30, 2014
Millennium Technologies, the leader in powersports cylinder replating and repair, will hold a strong presence through the company's sponsored racers participating in the AMA Pro Racing Subway Superbike Doubleheader events over the course of the weekend.
Kyle Wyman will compete in the AMA Pro Racing Subway Superbike Doubleheader's Daytona Sportbike and Harley XR1200 events fully representing Millennium Technologies. Wyman will be looking to score maximum points after being disqualified from his championship in Daytona earlier this season.
Other company-sponsored racers include Chris Fillmore of the HMC KTM Superbike Team as well as David Anthony of the Aussie Dave Racing Superbike Team.
Millennium Technologies has a long history of participation in Road America events through either direct sponsorships of the events or sponsoring participating teams and racers.
To see the schedule of events for the weekend, visit http://www.roadamerica.com.
To learn more about Millennium Technologies products and services to powersports motors and vehicles, visit http://www.mt-llc.com.