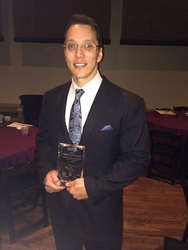 San Antonio, TX (PRWEB) May 31, 2014
Orthopaedic and Spine Institute is pleased to recognize Dr. Steven Cyr, founder and president, as the San Antonio Business Journal awarded Dr. Cyr the Healthcare Heroes Award for Excellence in Military Medicine, on Wednesday, May 7, 2014, at the McNay Art Museum.
What makes Dr. Cyr a HealthCare Hero? Foremost, he continues to use his vast knowledge and skills as the former Chief of Spine Surgery and Spine Surgery Consultant to the Surgeon General of the Air Force in the civilian world by founding the Orthopaedic and Spine Institute and later the Children's Orthopaedic and Spine Center because of his fascination with spine surgery; it has led him and his associate physicians to treat and care for children and adults while ensuring that the field of spine surgery remains strong in San Antonio.
As a father of three children, ages 3, 8 and 11, Dr, Cyr has a big heart for little kids. Superheroes greet each ones as they step foot into the Children's Orthopaedic and Spine Center to make them feel comfortable and welcome, and as each child leaves after treatment, he or she receives a medal and a cape. Alarmed by the Alamo City's high incidence of obesity and diabetes, the healthcare hero opened HealthCrave Medical Centers in 2012 to offer patients guidance and instruction in nutrition and exercise. His goal is to keep them on the path to health and wellness.
While in the Air Force from 1996-2010, Dr.Cyr was deployed twice to Iraq to treat wounded soldiers. "Wave after wave of helicopters would come in, and the injuries were tremendous. In four months, we did 800 surgeries," he said. "We put our heart and soul into caring for our military."
After 14 years in the Air Force, Dr. Cyr continues to support the military because of his love for our nation's troops. OSI recently supported the United Services Organization (USO) with a large contribution on behalf of Army Staff Sgt. Shiloh Harris who was injured in Iraq. Staff Sgt. Harris of Floresville was recognized in January 2012 by ABC's hit show "Extreme Makeover HOme Edition." OSI participated in that project and gave a large cash contribution to the USO in order to support active duty troops overseas in Harris' name.
His sense of altruism and philanthropy was born form his experience growing up int he Philippines where his father was stationed. It was there that he became aware of poverty and how it affected the local community. "Growing up in a Third World country, we were entrenched in the culture and saw how people don't have the opportunities we have inAmerica," he said. "It gave me an appreciation for what I do have. That experience made me who I am today."
It is also why in 2012 he and his wife founded the Steven and LeAnn Charitable Family Fund, which in 2013 donated more than $100,000 to various Christian and military nonprofit organizations including MedSend, Hill Country Daily Bread Ministries, Kinetic Kids, Teed Off at Cancer and World Vision, among others.
Finally, all that Dr. Cyr does, he does for his patients whom he considers family and for which he believes he has been entrusted by God to use his gifts to help heal others. "One thing that drives me every day is my patients," he said. "There's nothing more rewarding to see a life altered because of your intervention and interaction, seeing them going back to work and having kids. I've been blessed, and it is my responsibility to give back to others."
  
Because of Dr. Cyrs' amazing efforts in the Military, the San Antonio Business Journal has recognized Dr. Cyrs amazing efforts and successes in the military health field and was therefore selected as a Health Care Hero. 
 
Health Care Heroes is a special awards program that recognizes the outstanding achievements of individuals and organizations in the San Antonio health care field.