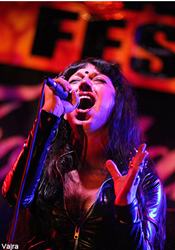 ...an innovative nexus of melodic prog, world beat and hypnotic eastern vibes, delivered with dramatic panache
New York, NY (PRWEB) May 30, 2014
Vajra's music will be featured in a Music Monsters Facebook game. The game is free and combines music from awesome indies & mega artists like Lady Gaga, Flo Rida, Cher, Lloyd, Hunter Hayes, and FallOutBoy. The game will be launched in Mid-June and will feature 1-3 of Vajra's songs.
Vajra's music is a blend of dark, melodic, progressive rock and Eastern Indian themes. Their tenebrous blend of music has been garnering worldwide attention ever since their first show.
After the release of their debut album 'Pleroma', critics have stated that Vajra's music is "sinister, sprawling, and stately featuring booming, tribal drums, ominous synths and lucent, spiraling guitars...[w]hat further sets them apart is the East Indian mysticism that pervades thanks to Pinna's hypnotic, Classical Hindustani-tinged singing..."
-Mark Suppanz, The Big Takeover Magazine
"...an innovative nexus of melodic prog, world beat and hypnotic eastern vibes, delivered with dramatic panache."
-Nick Tate, Progression Magazine
"...Pleroma has it all: drama, emotion, moving power ballads, captivating lyrics and catchy rocks songs with just enough dark edge and pop hooks to ensnare new fans…"
-Rick Jamm, Jamsphere Indie Music Magazine
You can see Vajra play live this Saturday, May 31st at The Bowery Electric in NYC at 9pm. For tickets and information, see Vajra's website at: http://www.thevajratemple.com.