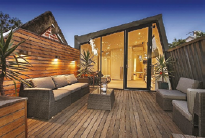 Due to our established client base and partnerships with some of the world's leading luxury brands, we have the financial ability to complete our projects and aim to be an on-plan, as opposed to off-plan, developer on the islands as soon as possible
(PRWEB) May 31, 2014
The Nevis Hill Club, situated at the Round Hill Estate on the beautiful, unspoiled island of Nevis, commands idyllic views and will consist of 62 luxury duplex town houses within a gated and secure estate. Marketing is exclusively aimed at ECI's global, wealthiest individuals in an attempt to promote tourism and encourage investment in the islands. ECI works exclusively with professional intermediaries, institutions and banks around the world that manage the affairs of some of the world's leading and most affluent people. It has private offices and representative offices in London, Monaco, Dubai, Singapore, Hong Kong and other more private locations and has, in a short space of time, become a leading, one-stop shop service for intermediaries in the capacity of advisor, legal service provider and developer, all under one roof.
Co-founder Edith Henry, who lives in St. Kitts and Nevis, was quoted as saying, "This is a major step for us. We have been focusing on St. Kitts and Nevis for a while and have chosen sites and projects which are strategically placed to maximise tourist numbers and which at the same time create investment potential for investors, who ultimately own the properties. Although comprising of only 62 units, this is phase 1 of a much wider investment in the islands. With most of these units already reserved by our existing clients, we are already focusing on larger projects on both St. Kitts and Nevis. Personally, this has enabled me to fulfil a lifelong ambition to bring something back to the islands I was born on. Working with my nephew Dean and his global group and due to his partnership with some of the world's leading agricultural and plantation companies, we have access to academics and practical experts to assist us in establishing and encouraging agricultural and community programs on the islands and to further the concept of agri-tourism."
The Nevis Hill Club project aims to start construction as soon as all final permits are in place and hopes to start, on site, in July with completion of all units in early 2015 and some as early as the last quarter of 2014.
Dean Henry pointed out, "Due to our established client base and partnerships with some of the world's leading luxury brands, we have the financial ability to complete our projects and aim to be an on-plan, as opposed to off-plan, developer on the islands as soon as possible. We have other luxury projects in the wider Caribbean and indeed globally but for me, personally, whose family originates from the islands, this project has a special meaning. I firmly intend to spend as much time as possible on the islands and bring as much investment and tourism here as possible. St Bart's is just a stone's throw away and I strongly believe the islands can fast become the next major Caribbean tourist attraction for wealthy visitors. This first development for ECI in St. Kitts and Nevis will inject an estimated $37.2 million USD into the island's economy via property sales and construction, with a further estimated annual revenue on tourist accommodation (based on rentals alone) of around $3.4 million USD. Obviously, with further tourist spend on the islands for food, beverage, leisure and job creation, this new project shows the continued confidence in the islands for foreign investment and tourism."