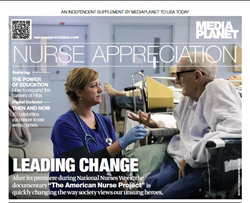 New York,. NY (PRWEB) May 30, 2014
Mediaplanet today announces distribution of its second cross-platform edition of "Nurse Appreciation," a campaign continuing the conversation started during National Nurses Week from May 6-12 advancing the career paths for our nation's nurses through education, leadership and appreciation. In partnership with leading organizations, nursing schools, healthcare and technology companies within the nursing sector, this campaign educates millions on the available career opportunities for nurses, as well as the advanced levels of education that will place nurses on the fast track to success in patient care.
The print component of "Nurse Appreciation" is distributed within the centerfold of USA Today within the markets of New York, Washington D.C., Baltimore, Chicago, Cincinnati, Pittsburgh, Cleveland, Kansas City and Dallas, with a circulation of approximately 450,000 copies and an estimated readership of 1.3 million. Its digital component is distributed nationally through an original site with a vast social media strategy and across a network of top news sites and partner outlets. To explore the digital version of the campaign, click here.
Gracing the cover of the campaign is an original photo taken by photographer and filmmaker Carolyn Jones, during the filming of "The American Nurse Project," a documentary inspired by Jones' book chronicling the everyday trials and tribulations of compelling nurses working in different settings. The documentary premiered in select theaters around the country during Nurses Week of this year.
This edition was made possible with the support of Wolters Kluwer Health, Cigna, Indiana Wesleyan University School of Nursing, Kaplan University School of Nursing, Maevn Uniforms, Marquette University School of Nursing, Park University School of Nursing, Samuel Merritt University School of Nursing and the University of Texas Medical Branch School of Nursing, with vital contribution from The American Nurses Association and The American Association of Colleges of Nursing.
About Mediaplanet
Mediaplanet is the leading independent publisher of content-marketing campaigns covering a variety of topics and industries. We turn consumer interest into action by providing readers with motivational editorial, pairing it with relevant advertisers, and distributing it within top newspapers and online platforms around the world.