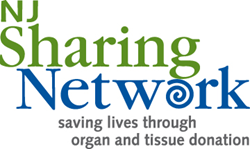 This is our fourth 5K and I am so inspired to see how our dedicated volunteers and supporters have enabled this event to grow so much.
New Providence, NJ (PRWEB) May 30, 2014
More than 300 teams comprising an estimated 9,000 participants will hit the pavement in New Providence on Sunday, June 8th, for the fourth-annual 5K Walk and USATF Certified Race, the largest fundraiser of the year for NJ Sharing Network. The theme will be: "To Remember. To Honor. To Give Hope."
The fun-filled family event will include music, awards, prizes and activities for all ages.
The event has raised nearly $2 million in the past three years. Organizers this year have set an ambitious goal of $1 million, buoyed by the generous support of presenting sponsor, Pfizer, and dozens of corporate partners and generous volunteers.
Each race team has a poignant story. Some teams participate to honor the legacy of someone who died and gave the gift of organs and tissue. Others will walk or race to remember those who died while waiting for an organ. Some teams participate to offer hope for someone currently waiting for an organ or tissue, while many organ recipients participate to celebrate their second chance at life.
"The 5K helps raise funds to support education, donor families, research and public awareness about the life-saving benefits of organ and tissue donation. The event also enables us to remember and honor those touched by transplantation, and to spread awareness about the life-saving and life-restoring gift of organ and tissue donation," said Elisse Glennon, executive director of the NJ Sharing Network Foundation.
Teams are being organized now as families and friends come together. In some cases, organ recipients will participate with the families of those who donated the organs and tissue that helped them or their loved ones.
In addition, radio personality Greg T. of Z100 will participate in the race and talk from the stage.
"This is our fourth 5K and I am so inspired to see how our dedicated volunteers and supporters have enabled this event to grow so much. While it is a fun-filled day, the mission behind this fundraiser is critical. We want to do everything we can to help eliminate the transplant waiting list," said Joe Roth, president & CEO of NJ Sharing Network.
More than 120,000 people nationwide, including almost 5,000 people in New Jersey, are awaiting life-saving organ transplants.
NJ Sharing Network's 5K Walk/Race is presented by Pfizer, and hosted in cooperation with the New Providence Business Community. Other corporate partners include: ShopRite Village Supermarkets, Wiss & Company, LLP, Barnabas Health, Novartis, Community Tissue Services, Document Solutions, JFK Medical Center, Musculoskeletal Transplant Foundation, NJ Business Travel Association, Ogilvy CommonHealth, PNC Wealth Management, Wells Fargo, Adams Gutierrez & Lattiboudere, LLC, CarePoint Health, Hampshire Real Estate Companies, Jaffe Communications and Campbell Health Media, Loran Associates, Inc., Meridian Health, NJ Association of School Resource Officers, Quest Diagnostics, Robert Wood Johnson University Hospital, Saenz Contractors, Sanford Brown Institute, The Condon Family, The Geffner Family, Investors Bank, The Valley Hospital, University Hospital Liver Center, William H. Connolly & Co. LLC, and McCabe Ambulance and EMS. In addition to The Star Ledger, our media partners include Z100 and Comcast Cable.
The event will take place at NJ Sharing Network's headquarters located at 691 Central Avenue in New Providence. Registration for the USATF-Certified Race opens at 7 a.m. and the Race begins at 8:30 a.m. Registration for the 5K Walk opens at 8:45 a.m. and the Walk starts at 10 a.m.
To create or join a team, or to make a financial contribution to the 5K Walk/Race, visit http://www.NJSharingNetwork.org. You can also visit the website or call 1-800-742-7365 to learn more about organ and tissue donation and register as an organ and tissue donor.