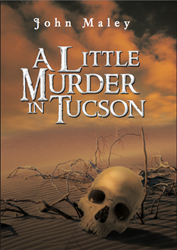 'I am dedicated to the search for truth, which often gets lost in our criminal justice system,' Maley said. 'I hope people will gain some insight from this work of fiction that is very much related to reality.'
Tucson, AZ (PRWEB) June 03, 2014
In the criminal justice system, who is more dedicated to seeking the truth, the prosecutor, the defense attorney or the private investigator?
As a licensed private investigator involved in criminal cases, Maley often feels like the only person in the system seeking the truth.
Involved in missing person and homicide cases and working with criminals in prison and in the court system, Maley has experienced prosecutors presenting information about the defendant in the worst possible light, with the defense attorney only putting forth effort into agreement or raising reasonable doubt.
Experiencing firsthand the human flaws that often appear in the criminal justice system, Maley seeks to bring awareness to these flaws as well as to the hardships facing investigators in the field.
Maley's debut crime novel "A Little Murder in Tucson" frames the actual events surrounding two murders that took place in Tucson, Ariz., based on his involvement as private investigator in both cases. The novel not only brings public attention to the murders but also demonstrates the need for reform in the criminal justice system.
"I am dedicated to the search for truth, which often gets lost in our criminal justice system," Maley said. "I hope people will gain some insight from this work of fiction that is very much related to reality."
"A Little Murder in Tucson" by John Maley
Hardcover, $28.99
Paperback, $19.95
e-Book, $3.99
ISBN: 978-1-49184-965-1
Available at amazon.com, barnesandnoble.com and bookstore.authorhouse.com
About the author
John Maley has been a soldier, a peace officer, a corrections officer, a probation officer, and he has worked as a private investigator in Colorado, Hawaii, and Arizona. He holds four collegiate degrees. Maley has taught history and criminal justice on the high school and college levels. He currently lives in Tucson, Ariz.