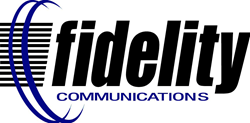 Customers received corresponding increases in upload speeds of up to 300 percent.
Sullivan, MO (PRWEB) June 01, 2014
Effective June 2, Fidelity Communications increased Internet speeds for its customers in five Missouri and Oklahoma markets at no additional charge. Affected are customers in Sullivan, Rolla, Lebanon and Salem, Missouri, and in Lawton, Oklahoma. Fidelity is based in Sullivan.
Both download and upload speeds are now faster. Download speeds for 25 Meg customers more than doubled to 60 Megabits per second. Customers with 50 Meg service were upgraded to 100 Meg speeds, by far the fastest speeds available, with much faster 5 Meg upload speeds—perfect for gamers or people sending and receiving large data files.
Also receiving faster service are 8 Meg Internet customers, now at 10 Meg, and 16 Meg customers, who were increased to 20 Meg download speeds. All customers received corresponding increases in upload speeds of up to 300 percent.
"Fidelity prides itself on being the speed leader in all its service areas," said Missy Poje, Director of Marketing. "We provide the fastest Internet speeds in every market we serve and believe in making the necessary investment to maintain that status."
Fidelity requires no contract, offers free installation and has no data caps, unlike many of its competitors, she said.
The faster broadband also fuels new Fidelity's Watch TV Everywhere service, which allows TV customers to watch selected channels on multiple mobile devices wherever they go. Wired connections and in-home WiFi will provide the best quality.
With "Watch TV Everywhere," customers can watch on a computer, phone, laptop, or tablet (both Apple and Android). More TV Everywhere channels are being added all the time.