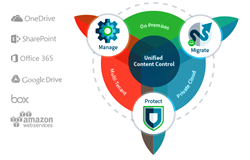 "Administrators can now easily manage, onboard content, analyze and backup through a single interface, providing a unified management experience..." Peter Senescu, President and co-founder of MetaVis Technologies
Philadelphia, PA (PRWEB) June 02, 2014
MetaVis Technologies, Inc., a leader in information management solutions for Microsoft SharePoint and Cloud platforms, today announced a new release which further expands the capabilities of its category leading Metavis OneDrive Management Suite.
The MetaVis OneDrive Management Suite provides the tools that enterprises need to make OneDrive deployment through administration and backup, smart, simple and secure while helping clients glean valuable insights along the way.
The new release includes three core components to assist organizations with the successful deployment and subsequent support of OneDrive for Business: Bulk Onboarding, Mass Administration and Tenant Level OneDrive Backup.

Bulk Onboarding – A simple and powerful interface to consolidate content into new OneDrives including bulk upload and migration from file shares, Google Drives and MySites.
Mass Administration – Mass reporting and administration of all OneDrives, providing a complete view over OneDrive usage, activity, and security.
Tenant Level OneDrive Backup – Backing up all OneDrives, stored either locally or in the cloud, providing a quick, safe way to retain content in-house and to proof against data loss and transfer requests.
"Administrators can now easily manage, onboard content, analyze data, and perform a backup through a single interface, providing a unified management experience and allowing them to quickly see and address issues throughout the enterprise," said Peter Senescu, President and co-founder of MetaVis Technologies. "This powerful functionality will remove the need for administrators to work with each employee individually, thereby giving them time to review analytical and usage data reports and ensure security policies are being followed."
For more information:
•OneDrive Management Product Page: http://www.metavistech.com/product/onedrive-management
•MetaVis' blog post: http://blog.metavistech.com/
•Download a free trial of MetaVis OneDrive Management Suite:
http://www.metavistech.com/downloadnow
•Attend our Webinar, OneDrive management made easy for a quick overview
About Metavis Technologies: MetaVis Technologies develops software that enables information-driven organizations to know their content. Through our unique suite of solutions for Microsoft SharePoint, Office 365, Azure, Exchange and OneDrive for Business, as well as file systems or pervasive cloud-based content destinations, we help take the complexity out of getting the most knowledge from your content. Whether in the cloud or the data center, helping you manage and protect your content is our passion. MetaVis products are multi-tenant-ready, intuitive, easy to implement, easy to use, and provide immediate value to your business. Let MetaVis help you know your content.