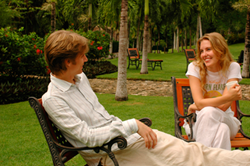 This will go a long way in solidifying Belize's reputation as a premier destination for honeymoons.
San Ignacio, Belize (PRWEB) June 01, 2014
The AARP, formerly known as the American Association of Retired Persons, recently named Belize as one of the world's top ten honeymoon destinations, and The Lodge at Chaa Creek's wedding and honeymoon planner said this reflects the little country's growing popularity as a romance destination.
With more than 37 million members, the AARP is one of the biggest non-government organisations in the USA and has been an important lobbying and information resource for people over 50.
A recent feature on the AARP site had Belize sharing top honeymoon honours with Tahiti, the Maldives, Bali and other exotic tropical locations in what Chaa Creek's Denise Duran said was a "significant seal of approval".
"When the AARP says something, a big audience is listening, and this will go a long way in solidifying Belize's reputation as a premier destination for honeymoons," Ms Duran said.
According to the AARP "Belize is an incredibly compelling Honeymoon destination for three simple reasons: its close proximity to the Unites States (a two hour flight from Miami), its weather (around 84 degrees daily year round) and the 190 mile long Belize barrier Reef…"
Ms Duran said, "Of course, it takes more than a warm sunny climate and beautiful scenery to make the AARP's top ten. This is a well-respected organisation looking for the very best for its members, so we're particularly pleased that Belize was chosen by the AARP as a top honeymoon spot."
Ms Duran said the news is particularly relevant to Chaa Creek, who she said pioneered the concept of "Adventure Romance" in Belize. "When Chaa Creek began offering dedicated 'Adventure Romance' packages years ago, they were simply a response to the number of people who visited and later decided that this would be a great place to get married or celebrate a honeymoon," she said.
"The AARP also points out that Belize attracts a wide variety of visitors and lists nature lovers, history buffs, cave exploders and people with other interests. Chaa Creek, set in its own 365 acre private nature reserve with over 70 ancient Maya archaeological sites, an impressive range of activities including excursions to artefact-rich Maya ceremonial caves and ancient temples, not to mention luxurious accommodation, a professional Hilltop Spa, fine dining restaurant and so much more, ticks off all the boxes the AARP lists, and then some.
Ms Duran said that with Tropic Air's Maya Flats airstrip at Chaa Creek's doorstep, Belize's Caribbean islands, barrier reef and coastline are also now a short hop away.
"Chaa Creek's all-inclusive Belize vacation packages make the Caribbean an affordable, hassle free addition to honeymoons dreams are made of," she said.
"We're happy that an organisation as respected as the AARP is spreading the word about what an extraordinary honeymoon destination Belize is, and we don't want people to worry that we'll become too popular; family owned and operated Chaa Creek prides itself on giving guests individual attention, and we wouldn't have it any other way," she said.