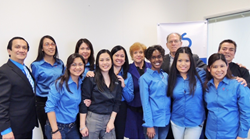 1 Team 1 Mission 1 Heart... because 1Heart Cares !
Santa Monica, CA (PRWEB) May 30, 2014
1Heart Caregiver Services advocacy on Continuing Health Education program brought Tee Barr, company's Brain Fitness Program Director, to Sunrise Senior Living Santa Monica to provide the much needed Brain Fitness exercise and techniques to ensure cognitive stimulation which could help slow down or fight occurrence of dementia. The Brain Fitness seminar initiated by 1Heart Client and Care Services Manager Arnold Navarro, was attended by 1Heart resident clients from Sunrise community and other residents who were interested to learn more about the subject bringing with them their respective caregivers. 1Heart wish to thank Sunrise Executive Director and Assisted Living Manager for the opportunity granted to make this undertaking possible.
The Brain Fitness Education seminar was centered on the six essential areas of cognitive brain that holds information and allow us to give information like the short-term memory, long-term memory, critical thinking, visuospatial, language and calculation. There are resident participation during the course of the learning session especially in the singing part where some residents, including those with dementia were able to express their own talents in participating and singing during some video clips that waked up their brain and refresh some popular music and cinematic scene of their age and time.
The Brain Fitness Seminar bring forth a reality that there is so much work to be done to reach out to seniors in different senior living communities. Brain Fitness expert Tee Barr gained the momentum of imparting some other Brain Fitness exercise and techniques where caregiver attendees were able to learn and should be able to apply in their respective work assignments. The ultimate recipient of this will be thousands of seniors once we roll out this program at the same pace we are presently doing. 1Heart Caregiver Services remains committed to continue this advocacy on a nationwide level in succeeding years.
1Heart Caregiver ServicesTM http://www.mycaregiverservices.com is a certified member of reputable home care association like (CAHSAH) California Association for Health Services at Home, Los Angeles Chamber of Commerce, BBB Better Business Bureau and an active member of a business network group 'Power Connections' of SFV and accredited / affiliated with Alzheimer's Association, Council on Aging, Caring.com, Venturaeldercare.com, Thousand Oaks senior services resource company, Care.com, Thumbtac.com and other senior healthcare agencies all over USA.
1Heart Caregiver Services had been operational for more than 10 years and it is the only in-home care service company in Southern California that provides employees with comprehensive training at its CS Caregiver University. The Training institution was founded in 2011 by CEO Belina Tagarao and Training Director Randy Clarito, who spearheaded the creation, design and implementation of the company's innovative multi-phase training modules provided to all employees. CS Caregiver University is an integral component of 1Heart Caregiver Services' rigorous program of 'Continuing Professional Education' and development of Certified Nurse Assistants (CNA), Home Health Aides (HHA) and Caregivers.
About 1Heart Caregiver Services:
1Heart Caregiver ServicesTM (1Heart CS) http://www.mycaregiverservices.com is a premier In-home care service company that provides professional private care duty to seniors and adults requiring assistance in their home and healthcare needs for the past 10 years. The company is run and managed by healthcare Executives with local and international training with combined top level executive work experience of more than 50 years. CEO Belina Tagarao is a Los Angeles IMAGE AWARDS honoree 2013 and HiFi 2014 Fil-American awardee as HiFi Ambassador within the Fil-American business community in Los Angeles. 1Heart CS is the only In-Home Care company that has its in-house 'Caregiver University' spearheaded by Training Director Randy Clarito in Southern California area that provides professional caregiver training held at its Los Angeles head office aligned with its 'Continuing Professional Education' program implemented to all corporate managers and staff of the company and extended to senior living facility requiring in-service training for their staff. The Staffing department headed by Staffing Officer Jennifer Remigio takes charge of staffing solutions to all cases, hiring and screening of all applicants and update of caregivers, CNA and HHA data base that can readily be assigned to new and existing cases handled by Client and Care Service Managers Arnold Navarro, Anne Capili and other Managers assigned in each target County. The company carries out a 'Circle of Care' process that is uniquely implemented by all Staff Managers and cannot be matched by any senior care service company. 1Heart CS is a Certified Member of CAHSAH, California Association for Health Services at Home, Los Angeles Chamber of Commerce and operates in Los Angeles County, Orange County, Ventura County, San Fernando Valley, San Bernardino County and Santa Barbara County area. For a case evaluation, call #213-351-9100 #805-338-8100, #310-779-6254, #818-561-6641 and #562-412-2420 for an agreed schedule of appointment. For caregiver applicants with minimum of 2 years work experience, look for Jennifer Remigio to process the application with the submission of live scan finger print, SS card, CPR / First aid certification and TB test results.