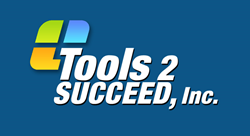 People who achieve greatness almost always have someone in their corner to encourage and support them to achieve.
Westlake Village, CA (PRWEB) May 31, 2014
Tools 2 Succeed provides executive coaching services to unlock an executive's hidden potential and realize his or her goals and dreams. In addition to traditional coaching, each session also includes one-on-one training on a specific Leadership Development topic.
What if a professional athlete never had coaching? What if that athlete was never given any feedback? Where would he or she be today? Sheryl Tuchman, SPHR, Founder and CEO of Tools 2 Succeed, says, "People who achieve greatness almost always have someone in their corner to encourage and support them to achieve."
Tools 2 Succeed offers a unique executive coaching program that combines coaching and leadership development. Coaching sessions are approximately 2 hours each. The first hour includes traditional coaching to motivate the executive to identify and clarify goals and desires, create a plan, and take actions to achieve objectives. Executives also learn to coach team members to achieve a higher level of professional and personal performance. Communication and rapport are given top priority in order to challenge limiting beliefs and empower the client to achieve full potential. A key to success is a "vision statement" developed specifically for each individual, describing vividly what the end result will look like so that he or she can begin to envision that new full-potential state. Progress is measured as goals and objectives are achieved.
Throughout the Tools 2 Succeed executive coaching process, the focus is on outcomes.
The second hour of each session is focused on Leadership Development. Following are some areas of leadership that might be considered, although it is important to note that specific goals are set individually. Focus is on building competencies in conjunction with business needs.

Communication
Accountability
Trust
Managing Change
Teamwork
Supervision
Empowering Others
Giving and Receiving Feedback
Conflict Management
Customer Focus
Positive Attitude
Time Management
Emotional Intelligence
Diversity
Strategic Planning
Operational Planning
About Tools 2 Succeed, Inc.
Tools 2 Succeed provides business training, consulting, and coaching services to facilitate organizational growth and change. Services include onsite employee development training, leadership workshops, executive coaching, outplacement services, behavioral assessments, and an extensive offering of e-learning courses. We are a reseller of Skillsoft e-Learning and offer online courses ranging from leadership development to human resource management to project management. We offer Skillsoft courses for PMI PDUs. Tools 2 Succeed is an Approved Provider of the HR Certification Institute, offering low-cost programs for HRCI recertification credit. They also offer e-Learning courses for PHR (Professional in Human Resources) and SPHR (Senior Professional in Human Resources) certification preparation. Tools 2 Succeed is based in Southern California and serves clients in 42 countries including all 50 United States, the U.S. Virgin Islands and Puerto Rico.