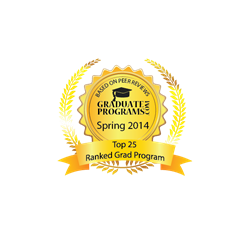 Englewood, NJ (PRWEB) June 02, 2014
Law school is a time of great learning, growth… and socializing. The class time is most important, of course, but the connections made will greatly impact job offers after graduation.
To that end, Graduate Programs is pleased to announce the Top 25 Law Schools for Social Life. With votes from more than 60,000 students, Graduate Programs ranked the most social law schools in the nation—and the University of Florida came out on top.
The top law schools for social life are:
1.) University of Florida (9.65 stars)
2.) University of Colorado at Boulder (9.49 stars)
3.) The University of Texas at Austin (9.46 stars)
4.) University of Georgia (9.33 stars)
5.) University of Alabama (9.24 stars)
6.) Washington University in St. Louis (9.23 stars)
7.) University of Virginia (9.19 stars)
8.) Northwestern University (9.17 stars)
9.) University of Miami (9.15 stars)
10.) University of San Francisco (9.14 stars)
11.) Southern Methodist University (9.04 stars)
12.) University of Michigan-Ann Arbor (9.01 stars)
13.) Stanford University (8.96 stars)
14.) Duke University (8.91 stars)
15.) New York University (8.88 stars)
16.) Boston College (8.77 stars)
17.) Boston University (8.76 stars)
18.) University of California-Berkeley (8.75 stars)
19.) Rutgers University-Newark (8.67 stars)
20.) University of Southern California (8.65 stars)
21.) University of North Carolina at Chapel Hill (8.55 stars)
22.) Brooklyn Law School (8.51 stars)
23.) Arizona State University (8.49 stars)
24.) University of California-Los Angeles (8.49 stars)
25.) Yale University (8.45 stars)
Students also often posted personal experiences while leaving a law school review. One Class of 2016 student from the University of Colorado at Boulder wrote, "While all students are in competition with each other to receive the coveted 'A', there is without a doubt a strong sense of community at CU Law. Students here have the perfect mix of intelligence and personality."
Students may continue to review their programs at http://www.graduateprograms.com and qualify to win a $1,000 scholarship, awarded once per semester. Reviews will be incorporated into upcoming program rankings.
METHODOLOGY
Here's how we crunched the numbers: Graduateprograms.com reaches current and recent graduate students through scholarship entries as well as social media platforms. All rankings for most social graduate schools cover a period from Sept. 1, 2012 and April 15, 2014. The rankings encompass reviews posted by more than 60,000 students participating in over 1,500 graduate programs. Ratings are based on a 10 star system (with 1 being the worst and 10 being the best), as well as verbatim answers submitted by students.
Graduateprograms.com assigns 15 ranking categories to each graduate program at each graduate school. Rankings cover a variety of student topics, such as academic competitiveness, career support, financial aid, and quality of network. For a given graduate program, rankings are determined by calculating the average score for each program based on the 15 ranking categories. These scores are then compared across all ranked schools for that program and are translated into a final ranking for that graduate program, i.e., business and management. A given graduate program is not ranked until a minimum threshold of graduate student surveys is completed for that graduate program.