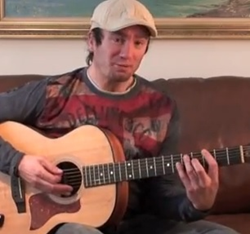 If you want to flavor up your solos it really helps to play the Dorian scale.
(PRWEB) June 01, 2014
Dorian is the second of the seven major modes. The Dorian Mode is composed by playing the major scale and flattening the third and seventh note's by one half steps, or simple sharpen the sixth note of the natural minor scale or Aeolian Mode. The name Dorian comes from the Greek referring to the "Dorian Greeks". Since the Dorian Mode is made up from the major scale with a lowered 3rd and 7th (minor 3rd & 7th), it can be played over minor, minor 7th, and minor 9th chords and is compatible with many major chord progressions and keys. Many modern and classic rock guitarists have used the Dorian Mode in there compositions such as Carlos Santana, Toni Iommi, and Sound Garden to name a few, a notable song based in the Dorian Mode is Scarborough Fair by Simon & Garfunkel. "The reason I wanted to teach you this is because a lot of times when we play blues in minor keys", says Darville. "If you want to flavor up your solos it really helps to play the Dorian scale." Jacques demonstrates a variety of licks using the Dorian scale throughout this video lesson so you can get a good grasp on how to incorporate it into your own playing. Guitar TAB's are available for this easy beginner blues guitar lesson at BluesGuitar.com.
Jacques Darville
Jacques Darville is a Danish born American who specializes in both acoustic and electric blues. Jacques has taught guitar and music for over 16 years. He is a graduate of Oakland University in Detroit Michigan where he earned his B.A. in music/performing arts. Jacques currently resides in Copenhagen Denmark where he teaches guitar to students of all ages, and actively plays with his band, Darville Duo. In addition to having a great deal of recording experience, Jacques has also toured in the USA, Denmark, Holland, Austria and the Philippines, both as a solo artist and with different bands.
About BluesGuitar.com
BluesGuitar.com is the leader in modern blues guitar instruction. It's packed with resources including articles,video lessons, and the best videos in the business for the beginner to the advanced guitar student taught by the best instructors out there.