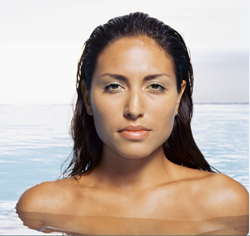 Aging, sun damage and genetics lead to the area around the eyes loosing volume, changing shape and developing under-eye circles.
Redondo Beach, CA (PRWEB) June 02, 2014
A new study from Erasmus Medical Center in Rotterdam, the Netherlands reveals that men, individuals with fair skin and those who are overweight are more prone to sagging eyelids. While there is no confirmed direct causation factor for sagging eyelids, the facial trait is prone to be genetic and run in families, with at least one gene partially responsible. The study appears online May 28 in the journal JAMA Dermatology. Dr. Sanusi Umar of FineTouch Dermatology says that despite the lack of a definite cause, dermal wrinkles fillers work in nonsurgical blepharoplasty treatments to counteract sagging eyelids.
"Unfortunately, we cannot treat genes yet," says study author Dr. Leonie Jacobs, a dermatology resident at Erasmus Medical Center. "But we can inform patients about risk factors like obesity, smoking and sun exposure, which they are able to modify themselves."
"Aging, sun damage and genetics lead to the area around the eyes loosing volume, changing shape and developing under-eye circles," says Dr. Umar. Surgical and nonsurgical blepharoplasty reverses changes around the eyelids to improve appearance and result in a more youthful appearance. Both surgical and nonsurgical blepharoplasty with dermal wrinkles fillers addresses issues including bulging skin, drooping, sagging, loss of fat and dark circles.
Surgical blepharoplasty was the most common cosmetic procedure until the early 2000s. However, innovations in dermatology and wrinkles fillers techniques allowed for nonsurgical treatment options. The nonsurgical approach for sagging eyelids improves appearance while also diminishing the complications of surgery, such as scarring, longer recovery periods and infections. Dermal wrinkles fillers add volume to specific areas of the eyes lost, according to Dr. Umar. They also even out fat tissue in areas that appear thin and too taut.
Nonsurgical blepharoplasty with dermal wrinkles fillers targets the same issues of surgical blepharoplasty in a less invasive manner. Dermal fillers such as Juvéderm and Restylane are bioengineered formulations of hyaluronic acid (HA). HA is a carbohydrate polymer naturally found in the body that aides in hydration. Additionally, HA is a main component of the extracellular matrix.
For sagging eyelids, the study found that the process typically begins around 40-years-old and worsens with increasing age. In some rare cases it starts in young adulthood. Sun damage and environmental factors also contribute to the appearance of sagging eyelids. Researchers looked at the eyelids of more than 5,500 white Dutch people, for one segment of the study, with the average age was 67. Eighteen percent showed moderate or severe eyelid sagging, with higher risk for men, smokers, those with lighter skin color and those with extra pounds. A genetic trait also coincides, with 61 percent of individuals in the study more susceptible to sagging eyelids. Other links, as previously suspected, relate to risk factors influenced by age, gender and lifestyle.
Aging, sun damage and genetics lead to the area around the eyes loosing volume, changing shape and developing under-eye circles. Eye skin is one of the first places to show signs of aging, whether from loss of elasticity, poor lifestyle habits or and environmental-based damages. Preventive eye wrinkle treatments have become one of the most sought-after aspects of an anti-aging regimen. Eye skin should be taut and wrinkle-free with an even skin tone. This is the appearance of a youthful face. However, wrinkles, dark circle, under eyebags and drooping eyelids are a giveaway to aging and poorly affect appearance.
Whatever the cause or contributor, wrinkles fillers can help counteract sagging eyelids. A consultation with a board certified dermatologist or plastic surgeon can assist individuals facing this cosmetic issue determine the best course of action.
About Dr. Umar
Dr. Umar of FineTouch Dermatology is one of 100 doctors in the United States to receive the prestigious RealSelf 100 Award. The top 100 doctors out of more than 6,000 board certified specialists with a presence on RealSelf are distinguished with the award. RealSelf is the leading online community helping people make confident choices in elective cosmetic procedures.
Dr. Umar is a board certified Los Angeles dermatologist and surgical dermatologist who is an expert in skin rejuvenation and follicular unit extraction (FUE) hair transplants. He is board certified by American Board of Dermatology and American Board of Internal Medicine. Dr. Umar has 12 years of experience providing cosmetic and aesthetic medical services. He is a member of American Academy of Dermatology (AAD), American Society of Dermatologic Surgery (ASDS) and Fellow, American Academy of Dermatology (FAAD).
Dr. Umar has hospital affiliations at Torrance Memorial Medical Center and Little Company Of Mary in Torrance California. Dr. Umar is also a faculty member at the Harbor University of California, Los Angeles Dermatology department. Additionally, Dr. Umar is highly focused on research and teaches others in the field about FUE.
The RealSelf 100 Award is granted to doctors who demonstrate outstanding commitment to patient education and helping millions of consumers get access to reliable, expert information about cosmetic procedures, treatments and aesthetic concerns.
Dr. Umar is an expert contributor to RealSelf, and to date has posted 945 answers to questions on RealSelf. Each month people from all over world ask important aesthetic-related questions, such as "Is there a way to minimize the appearance of wrinkles?" "Can you suggest ways to avoid and treat large pores on face?" and "Am I Developing Melasma?" Dr. Umar also maintains a patient star rating of 4.5 out of five stars in RealSelf reviews. Dr. Umar was invited to join RealSelf in 2009, and has achieved "Distinguished Member" status.
For more information about nonsurgical blepharoplasty treatments to counteract sagging eyelids, read http://www.finetouchdermatology.com/los-angeles-non-surgical-blepharoplasty/.