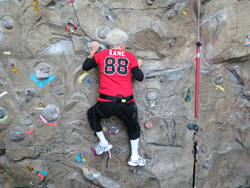 "I didn't tell my kids that I was doing this today. They would have had a conniption," said one resident. Her friend responded, "Oh, I did tell my kids and they wanted to come along!"
(PRWEB) June 02, 2014
Residents of Friendship Village have earned some distinguished bragging rights. On Thursday, May 29th, eight individuals, ages 76-86, became the oldest people to scale the rock climbing walls at Lifetime Fitness in Schaumburg. "I didn't tell my kids that I was doing this today. They would have had a conniption," said one resident. Her friend responded, "Oh, I did tell my kids and they wanted to come along!"
Friendship Village's lifestyles department coordinated the rock climbing as part of a growing effort to introduce or in some cases re-introduce more adventurous activities to residents of the retirement community. "We offer fitness and wellness programs for all levels of abilities but we decided that we wanted to start facilitating more extreme activities. This permits the residents to push themselves," said Michael McCann, director of lifestyles at Friendship Village.
Older adults sometimes feel like they need to give up things that they've enjoyed in the past, and forgo attempting new adventures according to McCann. Not necessarily true. In addition to rock climbing, Friendship Village residents have had the chance to snow tube, and will soon have opportunities to drive Go Kart racing and horseback riding.
There were varying levels of rock climbing achievement during the outing, with some Friendship Village residents barely leaving the floor, while others reached impressive heights. "Reaching the top of the climbing wall was not the goal. It's the journey, not the destination," said McCann. "It was all about pushing themselves to see how far they could go. This in turn pushed their level of independence, confidence and self-esteem. We saw lots of smiles. Even if they only went a couple of levels, they came down with a big smile. They proved themselves that they can still do this type of stuff and that's a really cool thing. This is a story they'll take with them and share with others," said McCann.
Friendship Village is a leading Chicago retirement community offering a complete continuum of care including independent living garden homes and apartment homes, as well as assisted living, memory support, skilled care, and short- and long-term rehabilitation services. For more than 35 years, Friendship Village has been providing Chicago area seniors with exceptional retirement living options. For additional information visit http://www.FriendshipVillage.org.