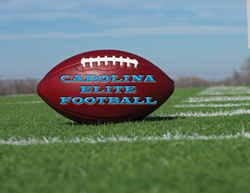 Russell Wilson has been an inspiration to young athletes around the country... It is very important for these future football stars to be able to learn from their idols in the NFL.
Raleigh, NC (PRWEB) June 02, 2014
Russell Wilson Passing Academy (RWPA) will be partnering with Carolina Elite Football to bring young football players a training day to remember. Children ages 9 to 17 will be learning valuable skills they can take back to their teams such as a sense of fair play, character and moral standards and, of course, how to run plays and acquire football techniques. This year's Russell Wilson camp will be held on June 21st at the NC State University campus.
Although entrance to this particular camp has already closed, interested parties should look at the variety of camps and training sessions offered by Carolina Elite Football: "Participating in Carolina Elite Football Track-out & Summer Camps will enhance your son's football skills and knowledge. He will also gain life-skills and experience growth in CEF's Core Values. CEF coaches create a fun learning environment but take very serious the opportunity to partner with you in your sons journey to becoming a responsible and successful young man," (Carolina Elite Football, May 2014).
"Russell Wilson has been an inspiration to young athletes around the country," exclaims Coach Bob Winstead, founder of Carolina Elite Football. "It is very important for these future football stars to be able to learn from their idols in the NFL. Wilson helped lead the Seattle Seahawks to victory in Super Bowl XLVIII. He also played for the NC State University Wolfpack for three seasons so I'm sure there will be many excited faces to see him back here in North Carolina. His willingness to help promote the mental and physical development of these young kids is a great motivator for us all."
The Russell Wilson Passing Academy will teach all the fundamental rules so these young athletes can play like champions. They will learn drills and scrimmages, position work, and how to pass and block like the pros. Parents are also welcome to go along and watch their kids succeed and truly understand the game of football.
"I am looking forward to a continued partnership with the Russell Wilson Passing Academy. The kids are really excited to learn from such a talented player and will carry this day with them for years to come," says Coach Winstead.
This year, founders of Players2Pros will be working with Carolina Elite Football. Professional's and ex-Pro's can be some of the greatest influences on a student athlete's life. Student athletes always have their athlete hero's. Every Pro or ex-Pro knows what it took to get into a good or even great college. They know the extent of what the scouts, coaches and recruiters are looking for. They are one of the very best resources that a student athlete can have access to for everything from technique to confidence and even advice.
About Carolina Elite Football
Carolina Elite Football impacts the lives of parents by partnering with them to enhance the lives of their children by providing programs that build character and instill
life-enhancing values and by instilling excellence, fairness, and encouragement to the coaches that coach them. Year round assistance and information that will provide parents the tools to assist their child with being better and playing at his next level. Football is used as a mighty tool for life lessons in other areas of life. Carolina Elite builds leaders on and off the football field.
About Players2Pros
Giving student athletes access to the col­leges and universities they're interested in is just the beginning. Coaches, scouts and recruiters will be able to search the MYP2P data­base of student athletes and directly con­nect with them. This is an unprecedented way for coaches, scouts and recruiters to scan the athletes or search by achievement criteria. Our vision for this platform is to make MYP2P the coaches, scout and recruiter one stop shop for following the student athletes that they're interested in, and being able to let them know through our College and University Badge system that they're watching them.
Coach Bob Winstead and Emerson Martin are both available for interviews. Contact Robin Nolan at McDavidPR or call 919-745-9333.