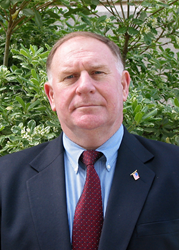 When I think of my legacy at Sierra,... I look at facility development, the establishment of the Wolverine Athletic Association, the Athletic Hall of Fame...
Rocklin, CA (PRWEB) June 04, 2014
John Volek, who led Sierra College to national athletic prominence in the 2000's, will be inducted into the National Alliance of Two Year College Athletic Administrators(NATYCAA) Hall of Fame Monday, June 9, at the NATYCAA Convention in Orlando, FL.
Volek was Sierra's Athletic Director/Dean of Health, Physical Education and Recreation from 2003-2011. During that time, Wolverine athletics burst into the state and national spotlights with state titles in baseball (2008), women's tennis (2007) and wrestling (2007), a 37-game winning streak by the football team (2003-2005), and the first-ever NATYCAA National Championship for Athletic Excellence (2003-2004).
Team success aside, Volek points to what took place off the field during his tenure in Rocklin. "When I think of my legacy at Sierra," he said recently, "it involves working with Sierra people to get things done that had never really happened before.Facility development may be the most visible Volek legacy. He oversaw the completion of 1500-seat Homer "Buzz" Ostrom Stadium, a wellness center on the Nevada County campus, and upgrades/renovations to Sierra's gym, baseball stadium, softball stadium, aquatics center, tennis courts, cross country course and soccer field.
Before coming to Sierra, Volek was the Head Football Coach at Sacramento St., Fresno City College, and Walla Walla Community College (WA). He has a Masters In Education from UC Riverside (1972) and attended Sierra College in 1967. He resides in Carmichael with wife Vicki. Proud father to Joe, Heather and Billy, Volek has eight grandchildren.
Contact Matt Folsom at mcfolsom42(at)yahoo(dot)com or 916-337-2092 for more information.
Sierra College serves 3200 square miles of Northern CA with campuses in Roseville, Rocklin, Grass Valley, and Truckee. With approximately 125 degree and certificate programs, Sierra College is ranked first in Northern California (Sacramento north) for transfers to four year Universities, offers career/technical training, and classes for upgrading job skills. Sierra graduates can be found in businesses and industries throughout the region.