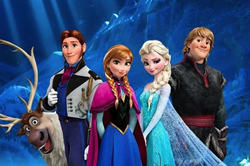 Denver, Colorado (PRWEB) June 03, 2014
Talk about hot. Adoring fans just can't seem to get enough of "Frozen", the 3D computer-animated musical fantasy-comedy released by Disney last November. Not only is it now the highest-grossing animated film of all time, the Disney On Ice version is set to hit the rink this Fall in Orlando.
Inspired by Hans Christian Andersen's fairy tale "The Snow Queen", the film tells the story of a fearless princess who sets off on an epic journey. Accompanied by a rugged mountain man, his loyal pet reindeer and a hapless snowman, the princess tries to find her estranged sister, whose icy powers have inadvertently trapped the kingdom in eternal winter.
The film has won two Academy Awards and its soundtrack has sold 2.7 million copies in the U.S. alone. The success of "Frozen" also swelled Disney's second-quarter earnings to four times what they were last year, thanks in part to stellar home video sales and the chart-topping soundtrack. (Source: Drew Sandholm, "Disney Puts Its Red Hot `Frozen' on Ice", CNBC, May 27, 2014)
"Hoping to continue to capitalize on the red-hot film, Disney has licensed Feld Entertainment to produce "Frozen" as a live show including a cast of more than 40 ice skaters and snow effects," said Marta Ault at BuyAnySeat.com.
"The touring "Frozen" ice show sold more than 500,000 tickets in its first week, while more than 175,000 tickets were sold in the first 24 hours alone, based on information from Feld," added Ault. That's why we're proud to offer fans the most complete and continually updated listing of Disney tickets online, with a worry-free guarantee to protect their purchase."
"To access the selection of cheap Disney on Ice: Frozen tickets we have available, as well as all of the other seating options at each venue, fans can go to BuyAnySeat.com and search for Disney On Ice: Frozen – then select their tickets."
Disney On Ice is a series of touring ice shows that are produced by Feld Entertainment in agreement with The Walt Disney Company. Typically, new shows debut and play in North America for two years and then head on to Japan for the third year, and Australia, England, and other parts of the world for the fourth year.
Beyond that, shows such as 100 Years of Magic normally return to the Americas for the fifth year, then trek around the globe and back in succeeding years. (Source: Wikipedia.com)
The shows are known for their combination of expert skating and choreography. Dressed as classic Disney characters such as Minnie and Mickey, Ariel, Sebastian, Belle, Merida, and Rapunzel – professional skaters perform polished routines and familiar scenes. They glide around famous fairytale sets, bringing the magic of Disney's stories to life.
Plus, it all takes place to the upbeat tempo of Disney's popular tunes, which often spurs audiences of all ages to stand up and start singing and dancing along. Songs from the beloved princess movies are also featured, much to the delight of families of fans.
The success of "Frozen" swelled Disney's second-quarter earnings to four times what they were last year, thanks in part to stellar home video sales and a chart-topping soundtrack. It also continues to be extremely popular with guests at Walt Disney Parks and Resorts, and the princesses, Anna and Elsa, are among the most popular Disney characters guests want to meet, according to Christi Erwin Donnan, a spokeswoman for Walt Disney Parks and Resorts.
To shop for cheap Disney On Ice: Frozen tickets, visit BuyAnySeat.com. To save to even more, enter coupon code "BAS2014" during checkout.
About BuyAnySeat.com: An online ticket marketplace, BuyAnySeat.com connects sports, theater and other live entertainment fans to an extensive worldwide network of ticket sellers. The site's simplified listings and navigational tools enable fans to easily locate, compare and purchase inexpensive, discounted or lower-priced tickets to virtually all advertised sports and entertainment events around the globe.
The online marketplace, which is PCI-compliant and Norton Secured, also provides customers with a complete Worry-Free Guarantee on all ticket purchases. Based in Denver, Colorado, BuyAnySeat.com is a subsidiary of Denver Media Holdings. For more information, please visit http://buyanyseat.com.