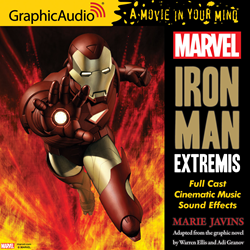 Bethesda, MD (PRWEB) June 06, 2014
Warren Ellis and Adi Granov reimagined Iron Man, the armored Avenger, as never before in their graphic novel which is now brought to life with sound effects, music and exceptional character portrayals by GraphicAudio.® This electrifying audio production returns us to Iron Man who, though he has been given life by advanced technology, is now threatened by it. A dangerous terrorist has ingested a new techno-organic virus, transforming him into a superhuman killing machine. Now immensely powerful, but driven mad by the virus' effects, the terrorist is seemingly unstoppable. To halt this madman's psychotic rampage, Iron Man must face this dangerous new virus head-on in a life-or-death battle that will forever alter Stark's calculated balance between man and machine.
MARVEL'S IRON MAN: EXTREMIS GraphicAudio® production features themes and compositions by noted cinematic composers Amotz Plessner and Jean Baptiste Boclè.
Available direct from http://www.GraphicAudio.net and via the free GraphicAudio Access™ Mobile App which allows customers to directly download titles on their Android or iOS smartphones and tablets.
About GraphicAudio® A Movie in Your Mind®:
An imprint of The Cutting Corporation, since 2004, GraphicAudio® has published approximately 900 titles and 60 different series in their GraphicAudio® A Movie in Your Mind® audiobook entertainment format. For more information visit: http://www.graphicaudio.net.
About Marvel:
Marvel Entertainment, LLC, a wholly-owned subsidiary of The Walt Disney Company, is one of the world's most prominent character-based entertainment companies, built on a proven library of over 8,000 characters featured in a variety of media over seventy years. Marvel utilizes its character franchises in entertainment, licensing and publishing. For more information visit http://www.marvel.com© MARVEL.