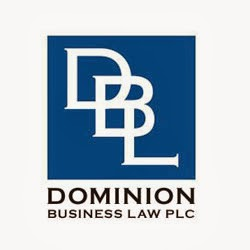 We understand that those looking for legal advice and assistance want to ensure that they make the right choice when selecting a law firm to help them with their legal issues
McLean, VA (PRWEB) June 03, 2014
Specialist law firm, Dominion Business Law PLC, has published a range of client testimonials online via its website. The testimonials have been published to provide increased ease and convenience for potential new customers who want to find out more about the quality and level of service before making their decision.
The testimonials can be viewed at the company website, which can be found at http://www.dominionbusinesslaw.com/. By viewing the testimonials, those who are considering using the law firm can make a more informed decision by reading what past clients have to say and getting an idea of the level of service they can expect to receive from this business law firm.
The specialist law firm deals with a number of different areas of the law, which includes business law, estate planning, probate law, and real estate law, with legal experts that are able to offer advice and assistance. The testimonials are from a range of past clients that have used the law firm for a variety of reasons, which potential new clients should find useful when making their minds up whether the law firm is the right one for their needs.
An official from the company stated: "We understand that those looking for legal advice and assistance want to ensure that they make the right choice when selecting a law firm to help them with their legal issues. We hope that by publishing testimonials from past clients, anyone considering using our services will be able to see the level of service that they can expect and how pleased many of our past clients have been with the services we have provided. Our website also features a useful blog section for those who want to get information on various areas of the law. "
To find out more, please visit http://www.dominionbusinesslaw.com/
About Dominion Business Law PLC
Dominion Business Law PLC is a specialist legal group offering access to a range of legal services.
Contact information
Dominion Business Law PLC
8280 Greensboro Dr #601
McLean, VA 22102
United States
Phone Number: (703) 918-9301