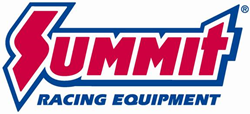 Tallmadge, Ohio (PRWEB) June 04, 2014
An Aeromotive A3000 Fuel Pump Kit will keep a drag race engine well supplied with fuel. It has a free-flow rate of 366 gph at 12 volts, 408 gph at 13.5 volts, and a whopping 468 gph at 16 volts.
The kit features Aeromotive's A3000 fuel pump. An upgraded version of the popular A2000 pump, the A3000 weighs less (just 5.1 pounds) and flows more fuel. It also has an integrated, diaphragm-controlled pressure bypass regulator that provides smoother, more controlled flow and pressure and dampens pressure spikes. The integrated 100 micron fuel pre-filter can be clocked in 45º increments to clear chassis components.
What's really cool is the A3000's modular design. Both the pre-filter and regulator can be removed and remote-mounted if needed. The pump itself has multiple bolt patterns on the bottom to accommodate almost any chassis mounting options, including ones designed for competitors' pumps. Your mounting options just increased a zillion times compared to traditional pump designs.
The Aeromotive A3000 Fuel Pump Kit is compatible with gasoline, ethanol, and methanol, and has one -12 AN O-ringed inlet and one -10 AN O-ringed outlet.
See the Aeromotive A3000 Fuel Pump Kit at Summit Racing
Summit Racing Equipment
http://www.SummitRacing.com
1-800-230-3030